Discussion Starter
·
#1
·
Hi all,
I have two sheds and a horse stall on the property. A couple months ago I ran a subpanel to one of the sheds with the end goal of powering these buildings. I have a few questions and am looking for general guidance since you guys provided me with some very valuable guidance when I ran the subpanel. Below is a list of what I plan to do since I have the next two weeks off.
1) Replace a 120V receptacle powering the well water softener just outside the shed with the subpanel. It's currently wired on the same 240V circuit that the well is on (yikes). No specific questions here really.
2) Run three circuits within the first shed. The first shed will be used to power some mildly hefty shop tools. I plan on installing 20A receptacles using 12/2 wire in this shed, half of them on one circuit and half on another. The third circuit will be a 14/2 for lighting. I do have a specific question here. The shed is unfinished inside so all of the stud bays are accessible. Can I just run 12/2 romex directly from the subpanel and (drill) through the studs to the receptacles? I don't imagine it'd be easy to bend metal conduit into my 16" stud bays for the length of the wall.
3) I will run two 20A circuits using THWN in two metal conduit runs from the subpanel to the 2nd shed. One circuit will power a receptacle and the lighting in here (very light electrical use in this shed). The second circuit will enter this shed to two switches and will go from the two switches to the horse stall (one switch powering a flood light and another switch powering a receptacle). Is the following diagram the best way to wire the two switches and the flood light and receptacle they control? Can I put the two switched hots, common ground and neutral in a single conduit or do the two hots have to be kept separate?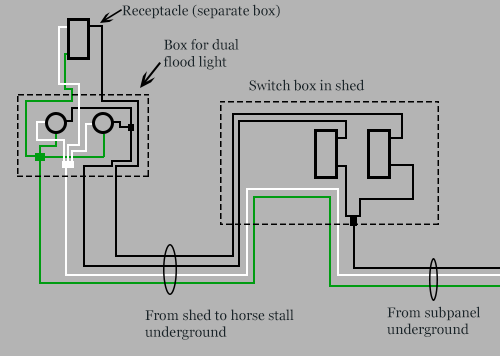 Thanks!