·
Ouch! That was my thumb!
Discussion Starter
•
#1
•
I just bought a new ceiling fan and will be mounting it in a place where there is currently no fixture. So I will be adding a juction box in the ceiling to tap off of the current line that runs from a single light switch to an outlet on the other side of the room (the only lighting I have in this room is the plugged in lamp). I would like to replace the switch with a dual switch that will control the fan with one slider and the light (on the fan) with the other. I have not done much electrical wiring before. I noticed in the existing lightswitch there is 14/3 coming down the wall, and 14/2 coming up the wall (I assume then runs off to another light switch or outlet downstairs.) I don't know what to do with the red wire. The ground and black wires were attached to the switch as well as the single red wire coming down from the ceiling. The white was bypassing the switch. With the new dual slider switch, I'm not sure which wires to connect where. Please help. Here is how I'd like to run my wires for the new fan.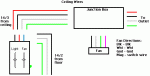 The wires running out of the right side of the junction box go to the outlet on the other side of the room. The magenta wire is actually a black-with-white-stripe wire. The directions say to "connect to wire from wall switch". Not sure which wire they mean. Here is the switch schematic.
I'm confused on what the schematic is telling me. Is neutral the same as the white return wire? And what exactly is the red wire (in the 14/3) if the black is always hot? Can someone help with how to connect the switch up to the incoming 14/3 and 14/2? Also, at the fan, if I connect black to black, white to white, gnd to gnd, then what do I do with the Magenta (black with white stripe)?
Thanks and much appreciated for any advice offered.
Toolman-(electrician)-wannabe