Discussion Starter
·
#1
·
First week in my new house and I've been having toilet issues. Pretty much anything solid clogs. It's not a hard clog, it just seems to stop halfway through the flush. The plunger clears it right up, but this is getting annoying.
I ran about 10 buckets of hot water through it this morning to rinse the pipes out, and I pulled the tank lid off to see if there was anything tangled or blocked. That's when I found this...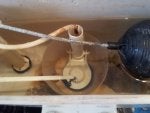 It looks like a plastic bowl surrounding my flapper. When you flush, the darn think restricts the whole flush to maybe a half a gallon or so.
***Action shot!***
Has anyone seen anything like this? Is is some crappy attempt to make this 1.6 gallon tank a super low flow system? Surely this isn't a stock item is it? How much trouble would it be to remove it?
The house is from '68, but I think the toilet is newer. I think it is a Eljer 141-0120 if it makes a difference.