Discussion Starter
·
#1
·
Hi all, nice forum you have going here! Seems to be plenty of good advice going around, so hopefully I can avail. My wife and I are about two weeks away from taking posession of our new build in Eastern Canada. The foundation was poured in October, and the house was built throughout the winter - and as usual, we had a LOT of snow.
Anyway, over the weekend, my wife was in the house, and saw water coming in along one of the basement walls. We understand that this could be condenstation, especially given that the basement floor was just poured about two weeks ago, bringing a huge amount of humidity with it. Here's a picture: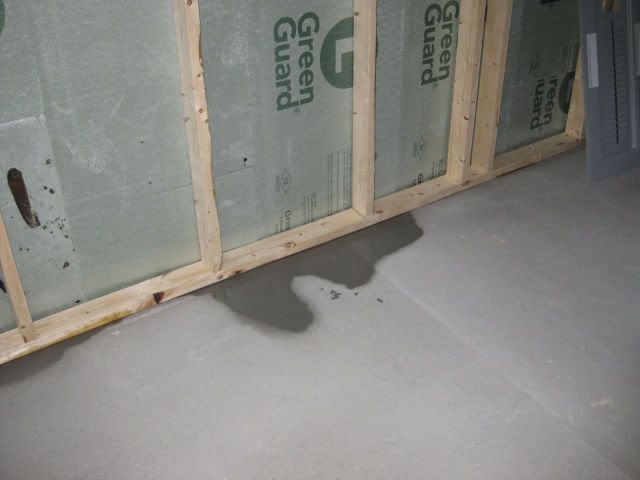 Out of curiosity, she goes to the room above this wall (the family room) and right above this issue is a cut-out for a propane fireplace. She takes a close look, and sees that some of the nails that were used to fasten the drywall are rusty. Furthermore, the drywall itself is wet!!
Today, she went to the house with the builder to show him these issues. he takes off the wet drywall, cuts open the vapor barrier, and removes a section of insulation... it is soaking wet as well!
Now here's what I'm looking for help on: the builder stated that the insulation is wet because the exterior wall freezes over the winter, and now that it's thawing, the insulation is soaking up the water! He said that all of the insulation around the house will be the same. This strikes me as very strange. Is there any truth?? Also, he said that the drywall was wet because of the fact that there were so many wet trades in the house recently, and the vapor barrier, being behind the drywall, is trapping the moisture.
Is there any truth to anything he's saying?
Thanks!