Discussion Starter
·
#1
·
I want to utilize an existing basement window opening to install a Bilco Door in order to gain outside access to my basement. The window opening is 36" wide with adequate support above it, so I would only need to cut the wall (old cinderblock-cuts easily) down to the floor after excavating outside and having a foundation built for the door-which presents one small problem. I think my sewer line might go right past where I want to put the foundation. I made this quick diagram in Sketchup to better explain: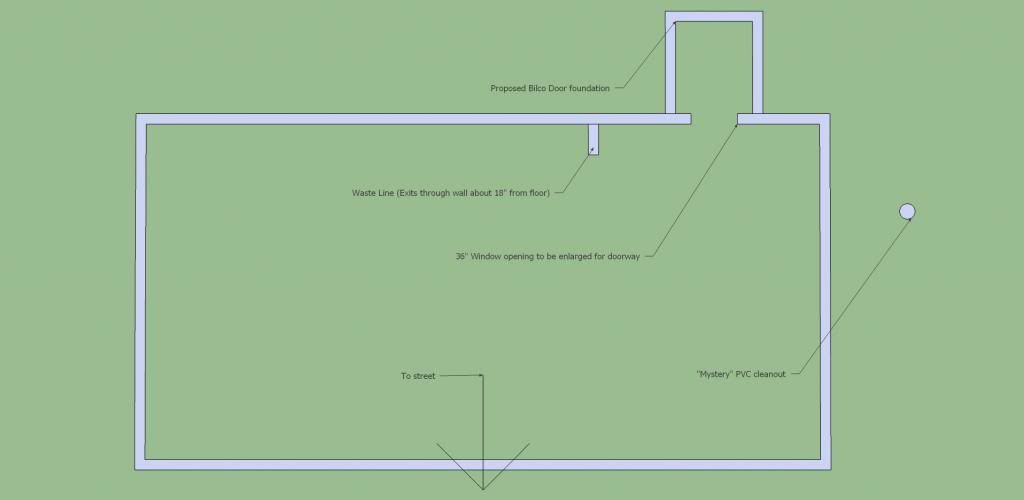 Here you can see the window opening in relation to where the waste stack exits the basement-straight out through the back wall. From there, the only clue as to where it goes is a PVC cleanout that sticks out of the ground on the side of the house, shown on the right side of the diagram. My FIL, a general contractor but not a plumber, said that the cleanout is a dead giveaway, but that it's strange since that means my sewer line would have to make two 90 degree turns after exiting the house, which is usually not done if it can be helped since crap doesn't like having to turn a corner Anyway, I don't see any other logical route unless it went straight out the back, but that makes no sense for two reasons-first because then what is the cleanout for, and two, that would mean my sewer line would cross my neighbor's property to get to the street behind us.
In any event, it looks like it probably runs directly through where I want to put my door. I don't think rerouting is an option, nor is it something I'd even want to think about. Obviously I can dig down and find where it is, but then what? I don't think building a shallow well for the door on top of the dirt covered pipe would be wise-the weight of the foundation might crack it? Could I build the walls of the foundation around it and then cover the pipe with something to protect it? Either way I'm going to lose headroom, but as long as I can move firewood in and out for my basement wood furnace more easily I'll be happy.