Discussion Starter
·
#1
·
I have a Venting problem but I don't know why.
This is a completely new installation. Pictures & diagram attached
2nd kitchen – 2nd floor only one kitchen per floor
Problem:
Sink drains very slow – several minutes if both sinks are half filled or one is block at strainer while other is draining.
If one sink is filled to near top and other sink is open- will drain most of the way then water comes up into empty sink and slow to drain the rest of the way for both.
if remove Studor Mini-Vent DMV AAV– water rushes down however water is present at Studor Mini-Vent DMV AAV also.
have experimented with different brand and style undersink vents.
Pictures show other vent, however now installed & using Studor Mini-Vent DMV AAV
ALL DW piping has a ¼" per foot pitch.
Center (between bowl) T has a deflector
T below Studor AAV is a sweep not a straight T
All piping is new from sink to 2" roof vent 15' away.
Nothing else taps into this vent all the way to 3" horizontal in basement
Undersink is 1 ½" until just before T .
Undersink T until Roof vent is 1 ½" SCH 40
Undersink T till undersink Studor AAV is 1 /12" SCH 40
This is all on a septic not public sewage.
Double bowl SS sink is 33" X 22" total X 6" deep.
Kitchen is 2nd floor residential.
Height of top of vent above roof approx. 18" above top of sink.
Studor Mini-Vent DMV AAV
·
Will vent up to 160 DFUs on a branch
·
Will vent up to 24 DFUs on stack
Not being inspected. Looking for safe and functional.
Advice please
Pic 1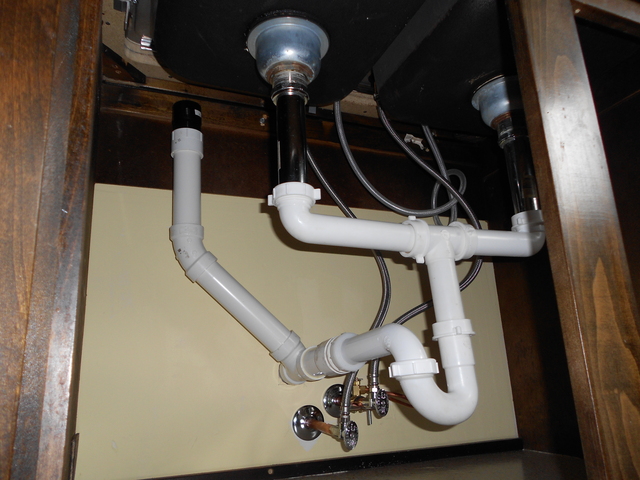 or
http://www2.picturepush.com/photo/a/8866905/640/8866905.jpg
Pic 2: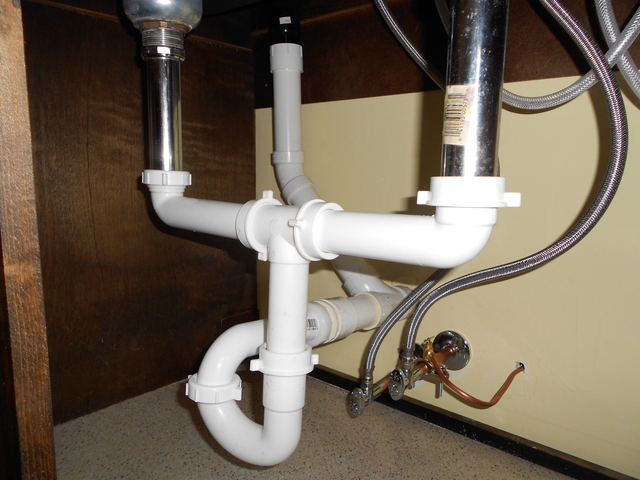 or
http://www2.picturepush.com/photo/a/8866930/640/8866930.jpg