Discussion Starter
·
#1
·
I have a question. Sorry I'm a little inexperienced with these things, so thanks for all of your help.
The labor cost of this step, and removing and reinstalling a toilet during some recent flooring installation, was $200. There was another step here, but we (the contractor and I) decided to replace it. It is just a single step between the entrance to my condo and the main floor. I thought that when he was going to put this step here, he was going to put the flooring down on the step too. It turns out he is expecting that I would need to buy some stain and stain it myself. There is a curved edge on the far side of the step, instead of a right-angle which one would put the wood on.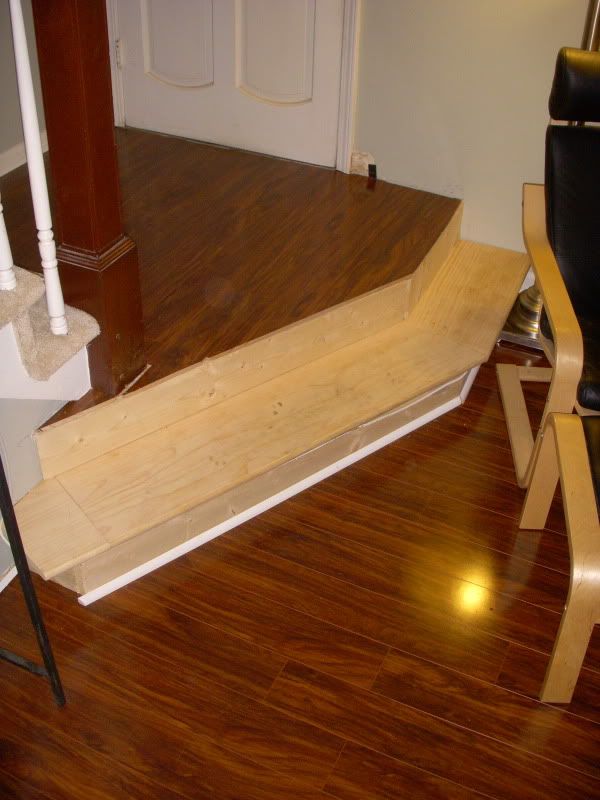 So now, I have shiny new awesome floors, but I'm left with this unfinished step. I wasn't expecting this at all. The cost of this step (and the toilet) was $200. I haven't actually paid him yet. (I have nothing against the contractor; he's a nice guy and all, but I worry that I could be too gullible when it comes to what I should expect from his work) Do you think that this unfinished step is an appropriate thing for the contractor to leave, for the $200 I paid? If we presume the cost of the toilet installation was $50, then this single
unfinished
step cost around $150 in labor.
What do you think about this situation? Would this step look better if it were stained, instead of putting the flooring down on it? Should I just take a sample of the flooring to Home Depot or Lowes and ask them for some matching wood stain to do it myself? Or... would it be better if I put the flooring down on this step too, and I should ask the contractor that, for the price of the step, he should also install the flooring on the step?
Thanks for your advice,
-Young and inexperienced