Discussion Starter
·
#1
·
Drywall in kitchen is mudded, taped and almost all primed. So I probably should have posted this a week ago before all that.
I was told by an electrician this was OK, but still am a but unsure, and while priming last night, thought before going further, should ask here.
I have wiring coming in at 3 points along my kitchen wall for under cabinet lighting. While putting up the drywall, I just stabbed through the drywall on a level line at the bottom point where the cabinets would be and ran the romex out and capped off until the lights went in.
It is the same for the wiring coming out for the dishwasher.
Also, same for the disposal, only that is coming out where the PVC drain pipe is as well, being that it is in that same cabinet.
Here's the question: does the romex need to be in a box at these points? Or does the drywall around the romex need any sort of ring or clamp? It seems odd to me that it would be just stabbed through and OK like that, but that's what I've been told. They all happen to be along the same wall, but 3 different circuits.
I snapped some pictures with my camera phone this morning before heading to work, not sure they will help, I was a bit bleary eyed and possibly still buzzed from the Zinnser 1-2-3 last night.:jester: :whistling2:
UC Lighting romex sticking out (if you can tell):
Romex for disposal: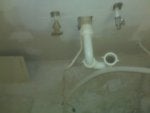 Wiring into dishwasher: