Discussion Starter
·
#1
·
I have been having fun tearing my old house apart. It's been a mini treasure hunt between very long hours, and it's coming along nicely.
My first find was when I removed the first baseboard in the living room. The house was built in 1887 and it was obvious the boards had never been moved. Buried under the soot I found a knife, then the old postcard, and then the 1887 Indian head penny popped out. Every nail in there is hand forged, and I am reusing when it is practical.
All along I have known this house was Victorian trimmed back in the day. I have pictures of sister houses in the area so I have a good idea what it once was, but my friends thought I was just doing some wishful thinking. So the best find was in the basement- some patterns for the original corner trim and a pendant.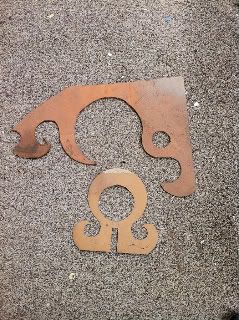 My plan has always been to stencil the living room floor. I was having a real hard time finding a stencil pattern I liked, then when I saw the pendant it seemed like a no- brainer. It is and always has been part of this house. So I plan to randomly stencil it with no set orientations, and perhaps even use the corner pattern on the floor as well.
But my friend who is helping me started calling the round pendant pattern "That Girl". And wow, she is so right. I'm not sure if I can shake this image!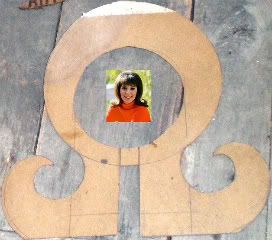 Anyway,the floor has come along nicely, all paneling off, plaster repairs slow but getting there. After that- paint and finish floors, and just maybe I can get moved in. Then the work begins outside :no:
Sadly, the transom windows are gone from the interior doors, but I'm not giving up on them just yet either. I really want to bring them back.
It's an adventure! And having fun on my treasure quest :thumbsup: