We are not just wanting, but needing to put a new roof on our 50 year old house. The current roof is tiles, and aside from those that occasionally blow off as well as a ridge-line that blows off, many of them have cracks on the edges leading to drips here-and-there. For the two years we have been living here, I have just been replacing tiles/fixing holes, but now we are planning this fall to go to America for at least half-a-year, possibly staying there long-term and just coming here to visit my wife's family, so it is necessary now to replace it with something not needing constant attention.
The front part of the house has 5 year old corrugated asphalt roofing, which looks ugly but isn't leaking at all (yet), so it will stay.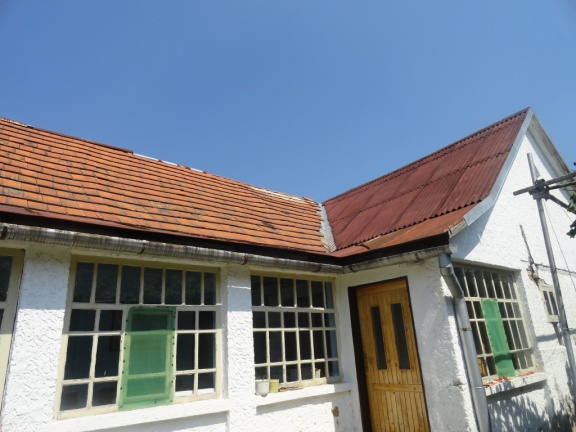 The overall area that needs to be roofed is about 160 square meters (appx. 1700 sq.ft.). The distance from the top of the roof to the eaves is 4.5 meters (15 feet). The current roof tiles sit on 3/4" x 2"purlins 1 foot apart supported by rafters 3 feet apart. The ridgeline is 16 meters (~ 50') ending on the other side with a 'hip' roof. On the back side of the roof there is one brick chimney and one (possibly asbestos-cement) stovepipe coming through.
I'll be using 24ga (0.70mm thick) galvanized steel.
My questions:
How much complexity would the hip roof add to the end? Am I better off just adding two more rafters to make the ending "plain"? (It may not look it in the photo, but the rafters are all totally solid, I think Oak. The purlins are just pine, and some at least will need replacing.


Are 3/4" X 2" purlins enough to nail in the cleats for the standing seam, or should something thicker be gotten?
Is there anything particularly wrong with 3 foot wide panels? A barn nearby has ones like that and aside from rust, it seems to be holding up fine and must be at least 20 years old:





For an amateur like myself who is handy with tools, what would be an estimate of the amount of time it would take to do this using just a hammer, anvil, tin-snips and seaming tongs? It looks like it is possible to rent some sort of electrically operated seamer here as well that might speed things up.
Thanks for any insight into these questions. I want to make sure I get things right beforehand, as I'm looking at at least 1000€ of galvanized steel, plus other materials...