I have a wall that is out of square and out of plumb. Exterior 8" thick concrete block wall.
House is single story CBS construction in 1955. In 1972 the then owner converted what was a porch or patio into living space, and what you see is where they started the extension, where the new concrete wall and the old concrete wall met. Here is a picture of the wall configuration.
From the right side of the picture the wall runs to an outside corner, does a "dog leg" and turns for a distance of 2.5', then an inside corner, then the new wall continues. The 2.5' wide wall between the outside and inside corner is the out of square, out of plumb wall I want to correct.
I took off the sheet rock since I am doing a few other repairs and changes.
Both the old and new walls were built with 8" wide hollow concrete blocks to about 6' tall, then a solid tie beam of 2' deep goes on top. It seems to me when they poured the new tie beams they had sloppy form work and some of the mortar ran down over the blocks and created the uneven-ness, then they put 2X4s over it out of plumb and square, then mounted sheetrock over the 2X4.
I have put a strip of 1.5" wide blue masking tape on the wall and floor, showing where the plumb line should be, and where a square outside corner should be. Here are some additional pics with close ups.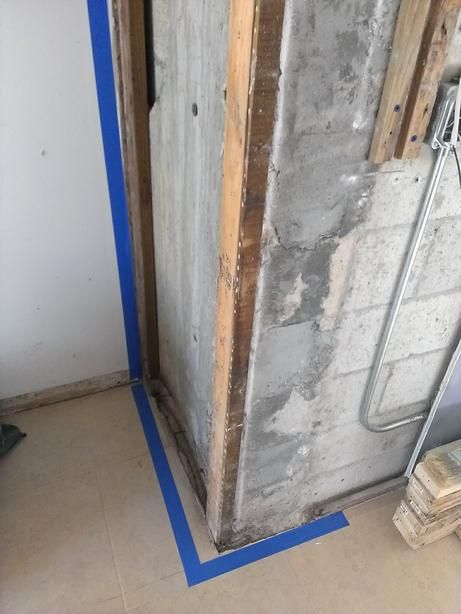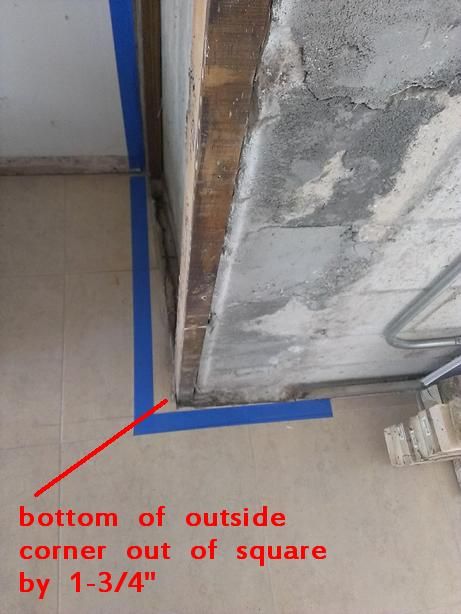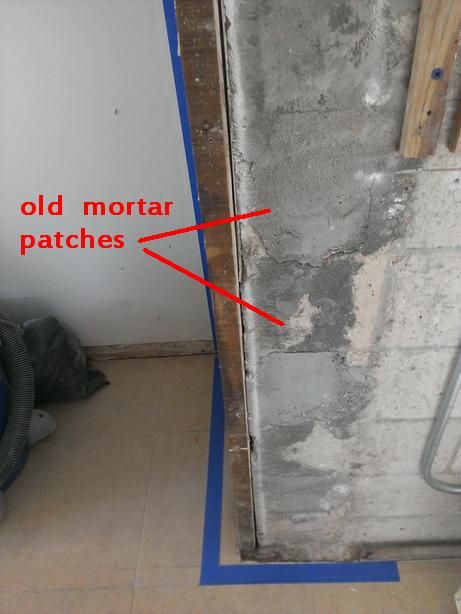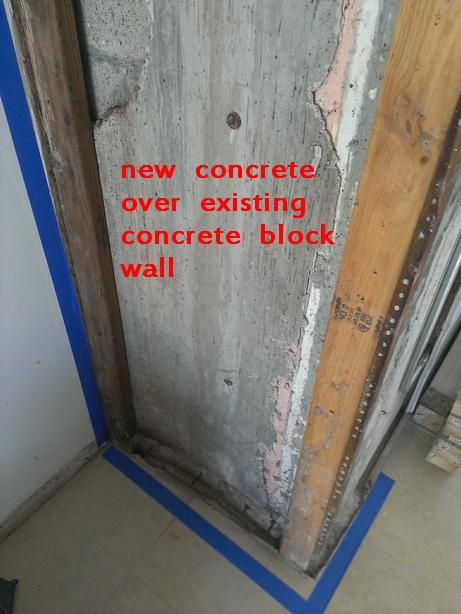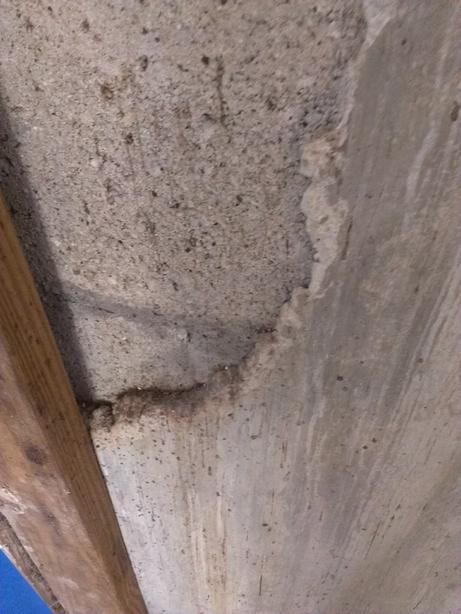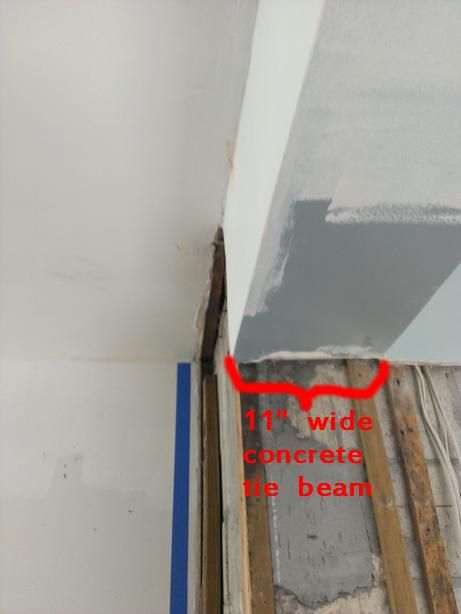 Any thoughts and suggestions on how to build out a squared and plumbed corners ready for new sheetrock?
Normally I would just rip off the old lumber, run 1X furring strips vertically and shim to get to where I need to be. But they are off by more than 1.5" up top and more then 2" at the outside corner. I would have to use shims made of 2X4s!
Here is what I am considering.
(1) OPTION 1: Use 2X4 or even thicker lumber as shims attached to the concrete with Tapcon screws then run plumbed and squared 1X furring over those.
(2) OPTION 2: Try and correct the inside corner so the concrete there is plumb and square with the outside corner. This can be done with an angle grinder fitted with a diamond blade, basically shaving a vertical 3.5" wide vertical strip, so as to be able to mount a vertical PT 2X4 over it plumb but recessed a bit into the concrete, then I will make up the outside square corner however I need to. This will be the most laborious option and lots of dust, plus it may weaken the wall if I over cut.
(3) OPTION 3: Forget about the concrete wall totally, just build a new 2.5' wide wood studded wall sitting over the tiles, the new top plates can be secured to the concrete wall with L brackets or similar.
Thoughts, ideas?