Discussion Starter
·
#1
·
Not sure if this belongs in plumbing, landscaping, or electrical..
Hi Everyone,
I'm having a problem with my in-ground sprinklers. I just got them turned on for the first time this season (installed by previous h/o a few years back). Two of my zones worked fine, and two would not work. I traced all the water and electrical connections, and came up with this diagram: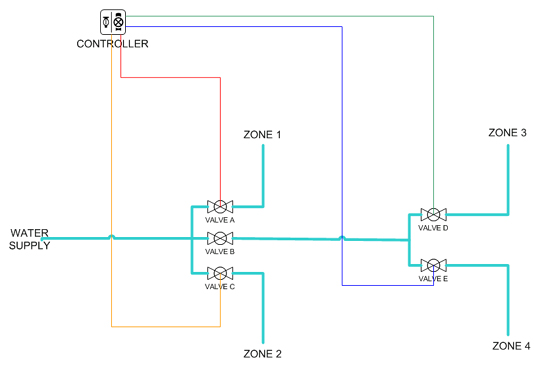 The red, orange, green and blue lines are electrical connections. I left out the common wire (black) which connects to each valve. The system is 24 VAC. Valves A-C are in the front yard, and valves D-E are in the backyard.
As you can see, valve B needs to turn on in order for zone 3 or 4 to work.
The problem is that the leads on valve B were ripped out. The blue and green wires pass through the box in the front yard, and I'm pretty sure one of them was connected to valve B (they are spliced in that box).
If I connect valve B to the green wire, then zone 3 works and 4 does not. Likewise if I connect valve B to the blue wire, zone 4 works and 3 does not. So
all the valves and water connections are OK.
How in the heck was valve B connected such that it would turn on when
either
zone 3
or
zone 4 is on???
Aside from the common wire, the 4 wires in the diagram are the only ones hooked up at the sprinkler controller. The sprinkler controller is not capable of turning on 2 zones at once, so I cannot simply connect a new wire to valve B and have it turn on along with D or E.
Thanks in advance!
Scott