I'm not sure if this is a flooring question or a construction/foundation issue. I'm interested in a house built in 1905 (IF I can negotiate the price down to something more reasonable, which I'm hoping I can since the house been on the market since 2009...). Anyways, one of the issues with the house is that the floor slopes down along one side of the kitchen. It's flat except when you get to the side that runs along the outer edge of the house. Then about 1 1/2 feet from the outer wall, the floor slopes dramatically down (maybe even 2" -- I wasn't able to measure at the time and had to eyeball it). You can't tell by looking at the cupboards along that wall (see image below - the slope is on the side that the sink is on), but where the cupboards end you can see it (I must have accidentally deleted the photo I took of that section -- sigh). The floor is vinyl tile, and the original floor underneath the tile is a type of pine that looks like fir (the carpet has been pulled up in adjoining rooms -- see second image). The wooden floor boards beneath the tile run parallel to the edge that the slope is on. And the big vinyl sheets appear to curve smoothly over the slope - does this mean they were applied after the slope happened?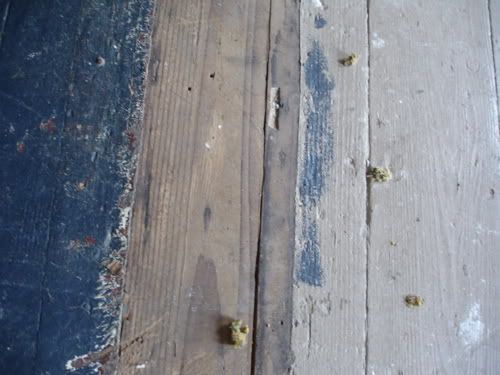 Is this a foundation issue or a subfloor issue? Regarding the foundation, it's posts & piers, and when a contractor friend crawled under the house he said someone had done some work on it, putting in some cement posts so that there's a post every 6 feet, in addition to the original wooden posts, which are spaced further apart than they should be (like most old houses in this town). This was most probably some sort of DIY thing.
So...why do ya'all suppose the edge of the kitchen is sloping, and what can I do about it? My mother thinks it needs to be "leveled" and says that's a major cost to consider. Does this mean the house needs to be jacked up and the foundation worked on under the kitchen??
Lastly, my family once rented a house built around the same time, in the same town. It also had a sloping floor on the outer edge of the house, in just one room and not the adjoining ones. Very similar, only it was carpeted over and even more dramatic (more like 4"). We lived there for years with no problems, except that we couldn't put furniture in the slope. How serious is this sort of thing?