Discussion Starter
·
#1
·
I moved into an apartment about a month ago and I have noticed that my sliding door to the patio as well as my sliding windows are leaking. I called maintenance at my apartment, but nothing was ever done. I've already dealt with them before, and I know that in order to have them fix anything, I have to be very clear about what the solution should be.
I noticed that water was beginning to build up in the track of the sliding glass door that leads to my back patio. It is coming from underneath the door where the stationary window meets the sliding door. I'll post a picture as I'm not sure what the terminology is to describe this.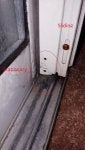 I went outside a poured a small amount of water and watched all of it coming pouring into the track on the inside. I can also see a bit of daylight when looking at it. So that tells me something isn't right.
Could it have something to do with weather stripping if water is coming in from this part? It also does this in all of my sliding windows.
I've also noticed a very large build up of condensation on the windows. It's the first weekend where the weather has been very cold (below 10f) and a few inches of snow. I ran a humidifier for 2 nights, and that most likely contributed to some of the build up, but I don't think it did all of it. I ran the humidifier in a different room, and the following picture is of a window in a different room.
Any advice on what could be causing my sliding door and sliding windows to leak at the bottom part where the stationary window meets the sliding window would be greatly appreciated!