Discussion Starter
·
#1
·
I'm working on a kitchen reno and I'd really like to be able to put an outlet on the side of a drawer cabinet. Problem is, there's only 1.5" clearance from the face of the cabinet to the drawer box. I'd prefer not to have to modify the drawer box.
An 8 CI Carlon shallow box would be perfect, but I need 11.3 CI to meet box fill requirements:
The 17 CI Carlon box with the sidecar is too deep and won't clear the drawer box:
I suppose cutting the sides off a pair of 8" boxes and gluing them together would void any UL listing, or violate code?
A 4" square Raco 185 steel box with a Raco 787 cover would fit if mounted flush with the cabinet face:
I'd need to modify a 2-gang blank plate to cover it:
Or I could use a double device cover and blanking combo plate (and end up with an offset outlet):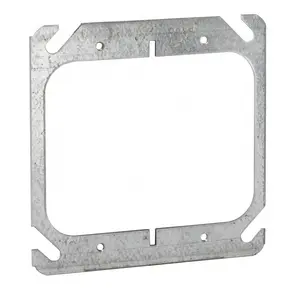 Can anyone think of any other bright ideas?
(I'm already locating an outlet close to the back, where there's space behind the drawer for a deeper box, just hoping to add a more convenient outlet towards the front of the cabinet.)