Discussion Starter
·
#1
·
[ I originally posted about this in another thread: Meditation Hut for just one person ]
I want to power an electric heater off a car battery, and I found a 12V 300W heater for sale on the internet:
The mains electricity supply in the UK is alternating current going from -325 to +325 volts. If you hook up an old-fashioned tungsten lightbulb to the UK mains supply, the lightbulb will give off the same heat as though it were connected to a 230V DC battery. So anyway if I have a 300W heater running off the mains, then the current flow through the heater is 300W divided by 230V = 1.3 amps.
However if I have a 300W heater running off a 12V car battery, then the current flow is 300 divided by 12 -- and that's a massive 25 amps. That's 20 times more current than a heater running off the mains!
The wire I have for my hut is supposed to be used for wiring the lights in a house -- it's rated for 6 amps. The concern with using too thin of a wire is that it might overheat and burn, because thinner wire has greater resistance. Any kind of copper wire of course has a little bit of capacitance and inductance, but for the most part it's just a very low value resistor. The heat (measured in watts) produced by a resistor can be calculated from two figures:
i) the resistance of the resistor ( R )
ii) the current flowing through the resistor ( I )
Heat produced by resistor = I²R
Note here that the current here is squared!
1.3 amps squared = 1.69
25 amps squared = 625
If I divide 625 by 1.69, then this tells me that the wire for the 12V heater will produce 370 times as much heat as the same wire being used to run a 300W off the mains.
So if I understand all of this stuff correctly, it looks like the 6 amp wire just won't be good enough for my 300W heater running off a 12V car battery. Instead I think I need to buy this other wire rated for 37 amps: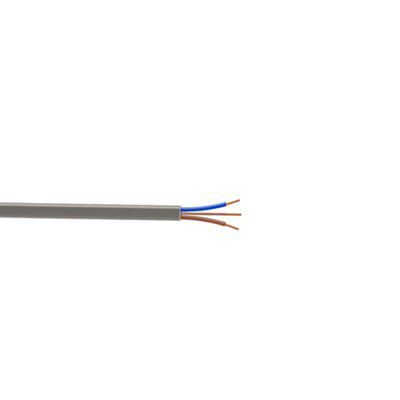 Prysmian 6242Y 4mm² Twin & earth cable, 10m | DIY at B&Q
Power your mains electricity with this Prysmian Copper installation cable. It is suitable radial socket circuits and is supplied in a 10m length.
www.diy.com
This thicker wire costs £2.00 per metre. (In American, that's US$0.69 per foot, or US$2.06 per yard).
Am I making sense here? Do I need to get the thicker wire rated for 37 amps? I'm pretty sure I need the thicker wire.