Discussion Starter
·
#1
·
I have a small triangular bump out area on my roof, it's over the roof of the original house and at the base of the second story addition. It's has a stucco coat over wood frame with a crack around it's perimeter, water has leaked inside and damaged the soffit and fascia directly underneath. It's what I showed in red circle in the image below.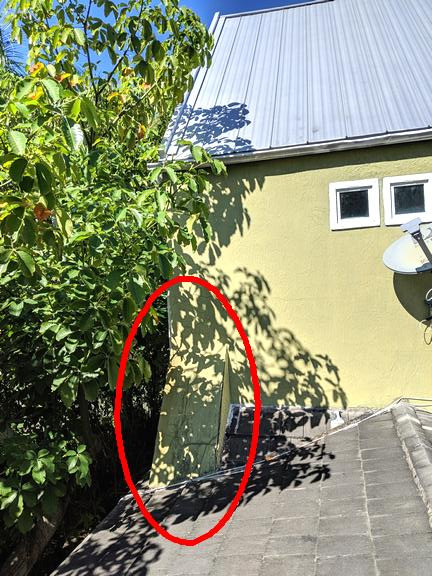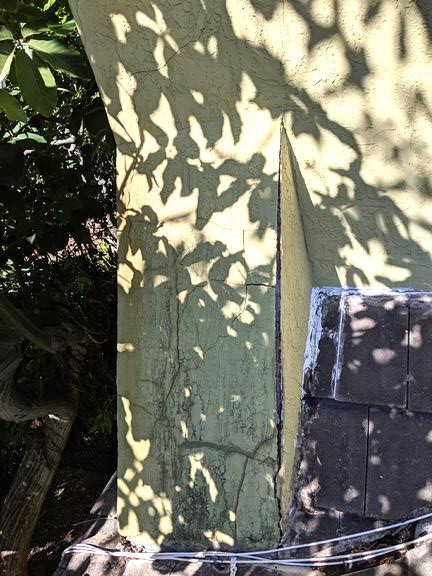 I called a roofing contractor for the repairs. They came and took it apart and it turned out this is where EVERYTHING (electrical, water supply lines, 3" PVC drain, central AC refrigerant and condensate lines, coaxial cables, old phone lines etc...) goes from the first floor to the second floor.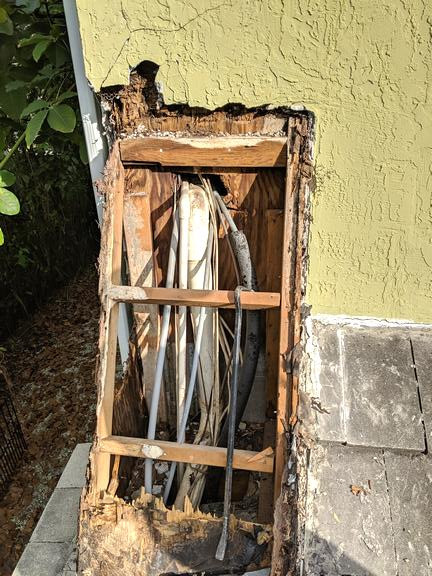 The wood framing of the bump is badly rotted. After seeing this I suggested to the roofer that I want to approach the repair differently. That I would like to square out the triangular bump and I would like some sort of an access like a door so I can make necessary repairs in the future.
So this is the new rectangular wood structure using PT 2X4 with 3/4" plywood. It is about 24" wide, 32" deep and 48" tall. The opening in the front is the access opening.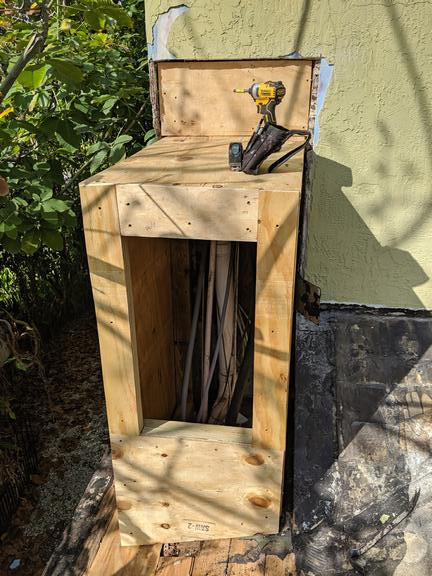 They then put roofing paper over the whole thing, and flashing around the base.
My questions:
(1) Flashing - Shouldn't there be flashing along the vertical edge on the right side? In other words, make a vertical cut on the stucco wall another 8" to 10", and put flashing on that vertical inside corner tying to the existing membrane? The roofer says only the bottom perimeter needs flashing.
(2) Roof - How would you do the "roof" of this square bump? It's 24"X32" in size. Do you do it like a normal flat roof? Put aluminum drip edges around it then asphalt roofing on top, or some peel and stick type?
(3) Lath attachment - I need to put a coat of stucco on it. I am not sure whether I would ask the roofer to do it, or I will get a stucco contractor, or I will do it myself. This is too small a job for a stucco contractor I think. In any case I am wondering about what is the best way to fasten metal lath onto the felt covered plywood. I assume I cannot use regular lath screws because that would make holes through the felt and water will eventually find it's way back to the wood?
(4) Access door - any suggestion what would be a good access door that would seal against the weather? Make something out of wood? Sheet metal? Find a dorm size refrigerator and use it's door LOL?
Thanks in advance for any comment or suggestion.