Discussion Starter
·
#1
·
Currently purchasing an 1880s Cape Cod style house and figure I will be spending quite a bit of time on these forums going forward. Prior to moving in we'd like to do some work on the attic where our bedroom will be.
I've attached a picture from the listing of the current space and one from the inspection behind one of the knee walls.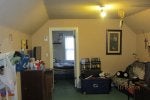 Before moving in, we would prefer to remove this interior wall that is splitting up the attic area, and also remove the knee walls and probably asbestos insulation behind the knee walls. Essentially strip the attic down completely and add further windows/skylight.
The question is, are the interior wall and the knee walls load bearing? Is it possible to tell from the photos if they just be taken down without issue?
May be difficult to discern here but thought I would pose the question.
Thanks!