Discussion Starter
·
#1
·
Alright, I'll keep this abbreviated. Two years ago, my father an I gutted our family room, and in the process, we replaced the old existing wood stove and slate hearth with a built in propane fireplace insert around a custom stone veneer fireplace. We did the actual build and placement of the unit, and the retailer I purchased from hooked all of the lines up. In the process, I opted for a traditional wired thermostat control, but wasn't there for the actual hook up (this was two years ago mind you). The retailer did not bring the thermostat, so he bought a junk one from a local hardware store and installed it. When I came home, the thermostat didn't work (shocker), and it appeared that nothing was wired correctly. I could still operate the fireplace manually, and my dealings with the retailer (he's 45 minutes away) were less than great, so I decided to live with it, and fix it myself.
Well, two years later, and I'm finally getting around to it. I purchased a new millivolt thermostat (one that was programmable and not appearing to be from the late 1970s) and wired everything up according to the wiring diagram, but it still doesn't work. I can completely disconnect the thermostat, and the burners are still lit.
Here's the wiring diagram: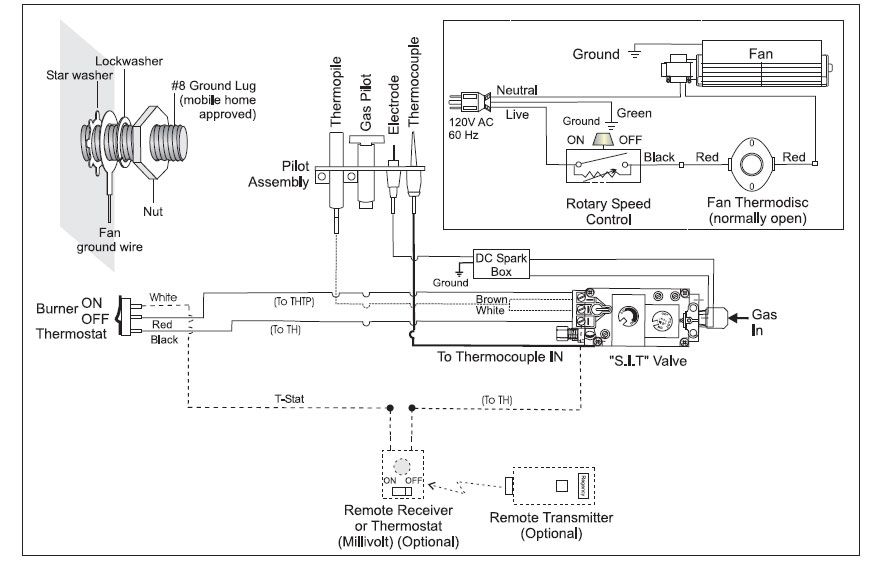 Here's the picture of the wires as it stands now:
The valve is oriented EXACTLY in the same way as the diagram. The heavier gauge red, white, and black wires are from the thermostat/burner control. The thinner gauge wires are from the thermostat.
I spliced the "On" wire from the the T-Stat to the white wire from the burner/thermostat, and then ran the "off" wire (white) from the T-Stat directly to the valve. The Thermostat has blocks that are labeled Y an G, and then a three block section labeled "Rh, Rc, and W." I used the Rh and W blocks, but I'm not sure (the manual didn't specify) if that could be the problem.
Anyone have any suggestions?