Discussion Starter
·
#1
·
First, I'm sorry for posting so many similar questions (I wish I could edit or delete prior posts). I have recieved some good advice here, but I'm not sure if I want low voltage, line voltage, magnetic or electronic transformers, 3" or 4", gimbal or slot trim..... ect, ect.....
Anyhow, instead of asking specifics, I think it might be better to just ask what you guys would do.
Here's a 'rough' draft of my living room layout (don't have a program, so this was the best I could do with Microsoft Paint).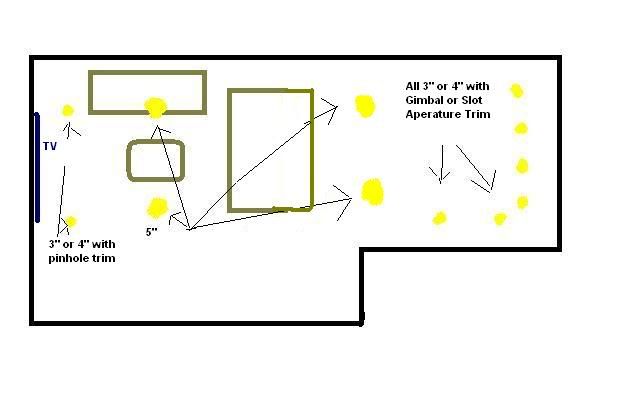 It's obviously NOT to scale, but the yellow circles represent the recessed lights. The room dimensions are 19x14.5 with 8' ceilings. I'd don't want to buy the best, because I plan to move in a few years, but I do want soft/comfortable lighting, dimmers, and no glare or interference with my plasma tv.
I'm thinking of using four 5" Halos in the center for general lighting and maybe 3" or 4" around the outside for accent/wall washing. I'd also like to use two seperate dimmers for the general and accent lights.
What would you guys use???? Brand, Size, Trim??
THANKS