Discussion Starter
·
#1
·
So we are planning on re-facing our fireplace with cultured stone veneer, and also possibly putting in a wood burning insert depending on money, and also hang a flat screen TV above the mantle. But we have several questions that we're hoping someone can help clarify for us.
The old fireplace surround I ripped out was painted wood, and have 2x4s underneath to hold it all together (shown in pics). I still have to rip out the hearth.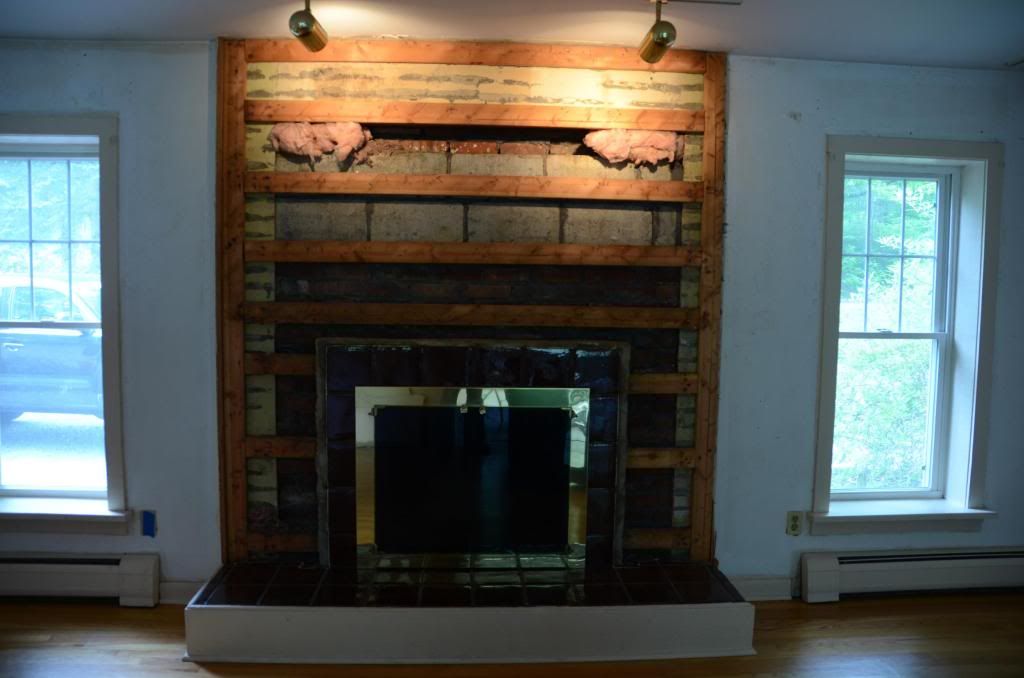 1. Is it ok to use wood to frame out a layout against the existing brick? If it is I was planning on making a wood frame with a mount for the TV, and then screw steel mesh over the wood frame to put the mortar on, and then the cultured stone veneer. I've read many people saying "NO" to this, as the wood has a chance to heat up and cause a fire. BUT the existing fireplace already had a wood frame with wood veneer above it? And also I've read several DIY articles and videos using a wood frame. Keep in mind I am keeping the brick chimney and just putting stone veneer on top, so that can act as a heat barrier. Also, is it ok to use wood to frame out the hearth? I plan on putting a slab of bluestone above it.
2. Can we remove the extra layer of brick surrounding the fireplace opening? It looks like they just put an extra layer onto the chimney, but I just want to be sure. I put a red arrow pointing to what I'm referring to:
3. What is the two layers of concrete blocks for? Is there a reason why they are there or can I take it off?
Thanks for any help you can provide!