Discussion Starter
·
#1
·
Hello forum,
I have a few summer projects that I'm trying to get started on, one of which is replacing the hideous press-on flooring in my kitchen: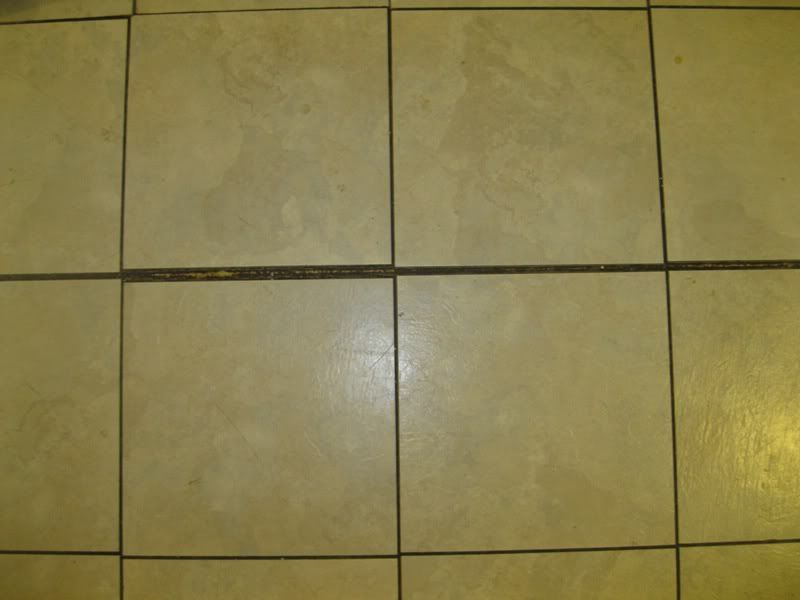 As you can see, it's ugly, yellowing, poorly aligned, and cheap. I was planning on replacing it with the Trafficmaster Allure-brand tile I used to do my bathroom floor last fall, because it looks much better, is relatively easy to install, and is in my budget range. I know I could technically just put down the Trafficmaster tiles over this floor, but it would unsettle me to know that this cheap tile was lurking just below the surface of my new floor. Also, it would mess up the alignment with the floors in my bedroom and living room. So I've been pulling up this cheap tile, revealing the original 70's linoleum underneath:
Which, depending on your preference, may or may not be even more garish than the tile covering it. I never knew so many shades of puke green/yellow/brown existed! But anyways. At least it looks like a more uniform and stable surface for the Trafficmaster tile. I've been pulling up the press-on tile and using Goo-Gone to wipe up the layer of sticky adhesive it leaves behind - though this might not be necessary. Anyways, when I was getting near a doorway and pulling up the press-on tile, the entire sheet of old linoleum lifted up too:
There's this black rubbery surface that the original linoleum is resting on, and there doesn't seem to be any glue between that surface and the linoleum above. In case you're wondering, there's no mold or anything there - just dirt between the linoleum and the bottom layer. So I guess after this long buildup, my questions would be this:
1 - Should I put the Trafficmaster tile down over the old linoleum, or the surface beneath it?
2 - If I should install the Trafficmaster tile over the linoleum, do I have to remove all the adhesive covering the surface of the linoleum first? I can, but it's kind of a hassle, which is why I thought I would ask someone first.
Thanks in advance for your help!