Discussion Starter
·
#1
·
I apologize if plumbing is not the correct place for this; I have small propane tank that supplies only the four burners of my kitchen stove.
I purchased a
GasWatch 203-LP
regulator/indicator to keep track of the mount of propane remaining (in the two+ years I've had this tank, I've yet to refill it).
I'm not too familiar with the components as it's currently set up, so I'm not exactly sure where to go from here? Regardless of where I should be attaching this (obviously, one end goes directly on the tank), the fitting on the other end of the GasWatch device will not connect to anything on my current setup without some kind of an adapter.
Thanks.
Tipsy
GasWatch 203-LP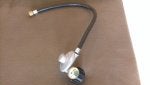 Tank