Hi All,
OK, so I have done all kinds of renovation work in houses over the year with family and friends and I think I should admit to being a bit of a "perfectionist". I've helped install heated wood floors, kitchen counters from scratch, entire kitchens from the studs out and more. Still, I had NEVER removed wallpaper until I just did in my recently-purchased home. It is a 1960 Michigan brick ranch that hasn't been redecorated since maybe the Reagan Administration.
Now I know why people say they hate wallpaper...
The wallpaper was very thick with a raised, wheat-like pattern on it that was made of some rubberized stuff. I used a wallpaper scoring tool and then steamed the wallpaper off the walls. It was not difficult. It was just boring and time-consuming. I have had to remove an entire coat of flaking paint on an improperly prepped, coved ceilinged, plaster dining room with Dumond Smart Strip, and I'd almost rather do that than ever have to remove wallpaper again...
Anyway, with patience and a good steamer, the paper came off easily: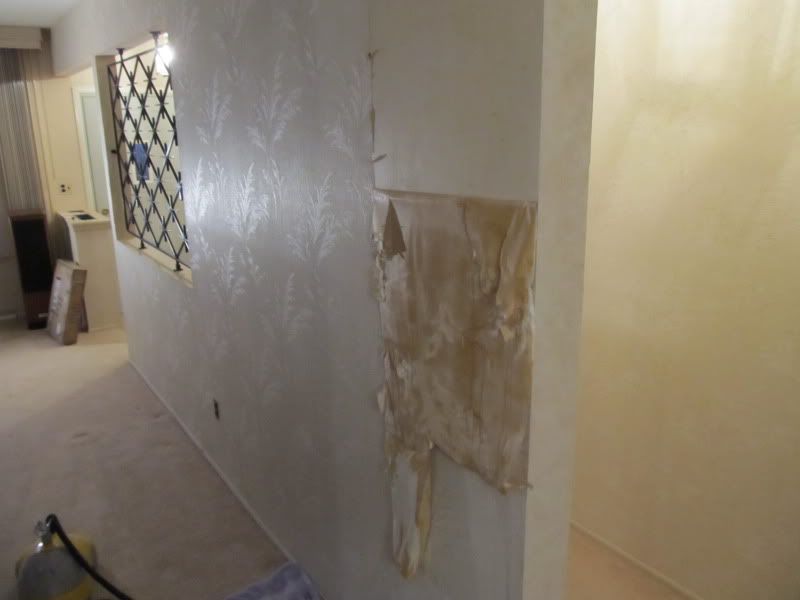 Once the paper was down, I used Piranha Wallpaper and Paste Remover to get rid of the glue residue and little flecks of backing paper left on the walls. I sponged the Glue Remover solution onto the walls in small areas and then used a green scrubby to loosen the gunk off. Once this was done and the walls didn't feel slimy anymore, I rinsed with clear hot water. This is where I have a concern.
On some of the walls, although I have done this procedure twice, I still see a pattern when looking at the right angle. It generally looks like this: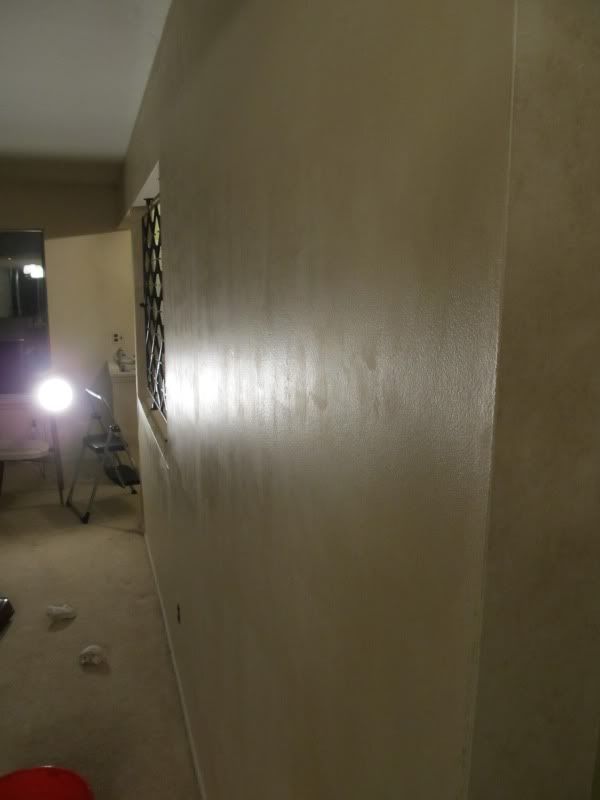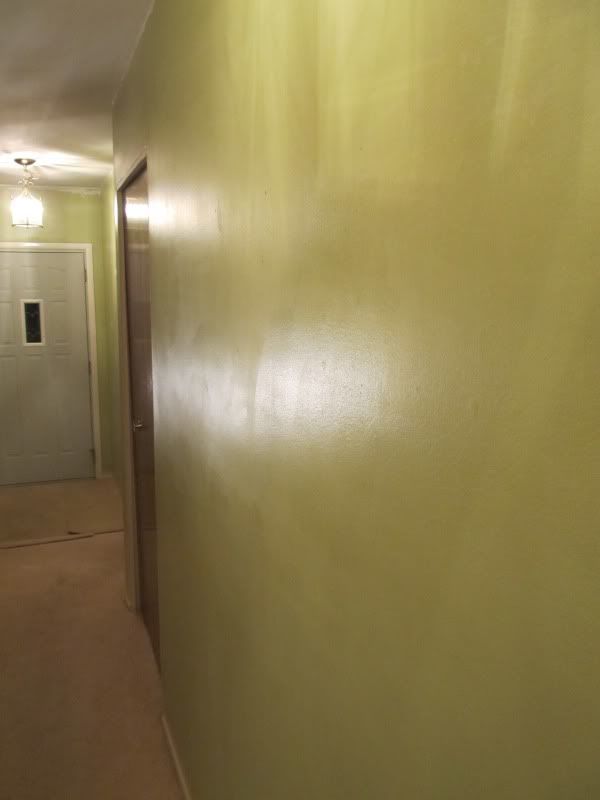 I can safely say that all these walls are completely smooth to the touch. In some areas, the wall does feel
very slightly
slick/sticky to the touch, and that is what worries me. Does that slickness and the pattern I'm seeing on the walls mean that I am not getting enough glue off the walls?
I just purchased Sherwin Williams Oil Based Multi Purpose Primer to prime these walls with. I am wondering if I need to clean them again with the Piranha Stripper to be sure or if I can get by with just cleaning the walls with TSP before patching and sanding all nail holes, cracks, etc. as I have always done on such re-painting jobs. I will be painting with SW Duration paint and will be applying 2 coats, of course. So, these walls will get:
1 coat Multi Purpose Oil-Based Primer
2 coats Duration Latex Paint
I just don't want to regret not getting every tiny bit of glue off these walls and screwing up my paint job. Any and all thoughts and opinions are appreciated!
Thanks!!!