Discussion Starter
•
#1
•
I have placed a bid for a bank owned property in central Florida. The home is a single story ranch built in 1966. The bank has not yet formally accepted my offer, and therefore I have not had an inspection done yet, but I noticed something that seemed unusual. There is what appears to be an approx 2.5 inch PVC pipe that that comes out of the exterior wall (about where the kitchen sink is) and runs along the exterior of the house, makes a 90 degree turn around the corner, and runs towards the front of the house at a slight angle, and eventually disappears underground. The water was not turned on, so I couldn't really test it to confirm, but I am suspecting there was a serious blockage or root problem in the kitchen sink drain line, and they chose to run the kitchen waste line outside instead.
I could be wrong and would definitely have the inspector examine it closely, but I was curious if this is acceptable if my suspicion is correct? It obviously doesn't look good aesthetically, but other than that could it lead to other issues here in Florida? If it is a big deal, I would consider asking for a credit off the purchase price for repair.
Here are some pics where you can see the pipe running along the wall in the 1st picture and then rounding the corner in the 2nd picture..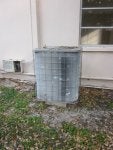 Any input would be greatly appreciated.
Thanks!
Kevin