Discussion Starter
·
#1
·
Is this the same everywhere?
So my city building services have closed it's doors since early March, and instead set up a banquet table outside the doors with dozens of file boxes for you to drop stuff off. Permit applications here, revised plans here, additional forms here, builder affidavits here....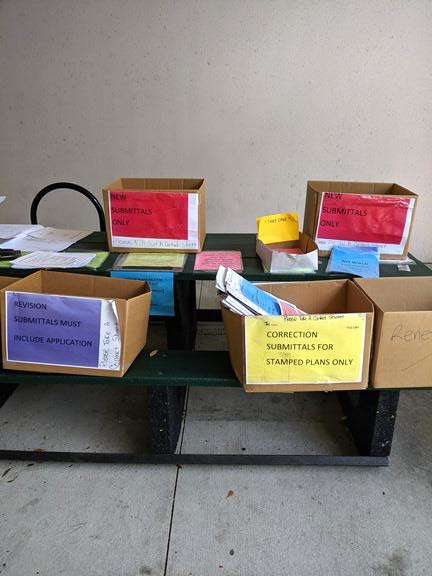 Let's say you want to submit a new permit that requires plan submission and officially notarized papers and can't do it via online permits, you have to drop off hard copies.
These are the steps.
You go to the city's building department to drop off your permit application in the appropriate box outside.
Let's say you go to drop your plans on June 1 Monday. This box is untouched the entire week by staff, they wait till that Friday June 5 COB to take the box inside, that box will contain all submittals from June 1 to June 5.
Now this box once put inside, is left in a staging area for at least a week, because staff thinks it needs to wait a few days for the virus to die off. So they wait at least ONE WEEK.
The first time anyone would touch that box is June 15. If it's a plan reviewer working at the office, they will look at these plans, by that time it's 15 days from when you drop it off. Now if it's a plan reviewer working at home, that person will need to come in on the week of June 15, to pick up that box to sort through and bring the relevant plans home to review.
Can you imagine how long it will take, if your plans and permits have to be through multiple departments like zoning, structures, electrical if some or all of those reviewers are working out of their respective homes?
Have your permit processing been slow since the pandemic?
Is your city doing something similar?