I would like to build a pass-thru window in a non-load bearing wall from my kitchen to my dining room. The current studs are standard 2x4's. The wall is 8', and I want the window to be 36" x 36". I want the top of the finished opening the be level with the top of the door between the kitchen and dining room, which is about 7" to the right of where the opening will be. I want to add a countertop that would be either granite or black walnut, or something similar, and I'd like the countertop to be at about bar-height, so I can add a stool or two. On the kithen-side of the opening, there is a floor cabinet with a counter. I've got several questions before I go about this (and I'm a new DIYer).

1) Do I need to remove all drywall from floor to ceiling where I want the pass-thru to be?
2) If I don't need to remove the drywall from floor to ceiling, and the finished opening is 36" x 36", how much wall should I cut?
3) How think of a counter should I get, and what would be the best way to install it?
4) I thought about having two recessed lights in the top of the frame shining down on the counter. Is it possible to build recessed lighting into the frame?
5) Could someone draw or explain a rough diagram of how I should frame this opening? Should I build a frame and fasten it to the current studs, or build a frame into the current studs that I've cut?
6) Any suggestions on finishing the opening?

I am a first time home owner (just closed on the Jan. 18th, and I love to do DIY projects. I'm constantly learning and getting better. My main worry is that I undertake a project that is too big for me, and get in over my head. If you think that's a possibility here, let me know as well :thumbup:.

Thanks!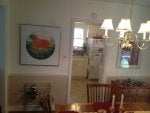 The window will go where the picture is.