Discussion Starter
·
#1
·
Any help on this would be greatly appreciated!
My wife and I just bought a 1920's house and my first project was to install a new chandelier that we got online from China. It's a knockoff of a Pottery Barn one that is now discontinued...pictured below...
The wiring at the fixture is knob and tube. I determined which was hot and neutral and tested the voltage (came in at roughly 110V). The circuit that it's on at the panel is 15amps. I wired everything up, switched the panel back on, flicked the light switch and BUZZZZZZZZZZZZ! Loud buzzing sound and no light. I quickly turned everything off and examined the fixture's ratings that were listed only on the remote transmitter...some of which seemed like they were in broken english...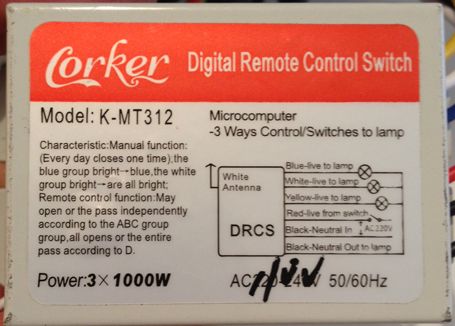 Could it be the alleged 3000 Watts that the chandelier is attempting to pull? Is it possible that this chandelier is actually 3000 Watts? Seems like a lot to me. I don't recall coming across a fixture light this before. Any other tips or advice?
Again...any help would be greatly appreciated!!!