Discussion Starter
·
#1
·
I have a small 1950's house which had an 8' x 8' dining room which was practically useless that ajoined the foyer and the living room. I tore out these 2 walls to make it one 12' w x 24 room' that opens perpendicularly into the galley style kitchen. Moved the electrical and had to move some HVAC vents.
The entire house is hardwood, except the dining room and kitchen. I'd like to kick whoever didn't put hardwood in the dining room! Fortunately the previous owners carpeted over the hardwood so it's in very good (thoguh not perfect) condition. There's a subfloor already there for vinyl/linoleum, which is pretty level already (of course I'll level it out more with compound..).
Now, I need to decide what to put in on the floor- which will go into the kitchen as well when I do its remodel. I first thought about more hardwood and try to match it or get it close, but as we all know it's going to be impossible to match it up. The 55+ year old original floor is a sand and stain combination of what appears to be red and white oak, so even if I got the species right and had the entire house redone, I bet it still won't match.
Since this is an entry level house and i'm not THAT picky, it's not going to be marble, brazillian rosewood or other exotic material :laughing:. I'm thinking of using vinyl- perhaps Duraceramic or real ceramic for this when I get to redoing the kitchen as well. Although a different hardwood or bamboo is not out of the equation as well.
Other considerations, I'm going to redo the kitchen next to get rid of the 1950's cabinetry. I plan on using a light color like a natural wood or a paint so the floor should go along with that. There are no kids but I do have a tendency to have alot of people over for parties (bachelor pad! :thumbup
.
I'm leaning towards vinyl or Duraceramic because the existing subfloor is already 5/8" thick and any real tile I'd have to redo the subfloor due to thickness. Any advice on materials/color?
Here's before: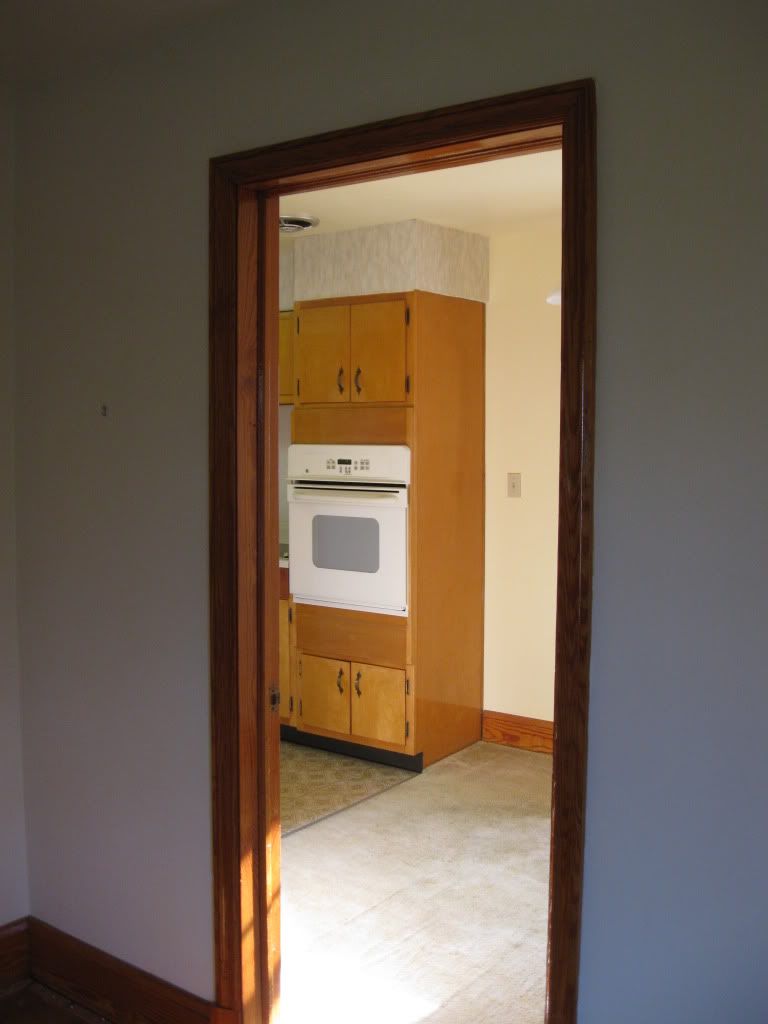 Here's after (the existing linoleum glue was water soluable!):
A better look at the existing floor wood grain when I thought about trying to match it with existing prefinished wood: