Discussion Starter
·
#1
·
I need to find a way to secure a closet door track to the ceiling.
Most closet doors I have seen are framed with an opening like a door with a header across the top. I have one closet where the door opening goes all the way up to the ceiling. You can see the track is mounted on the ceiling. The doors are bifolds 96" tall.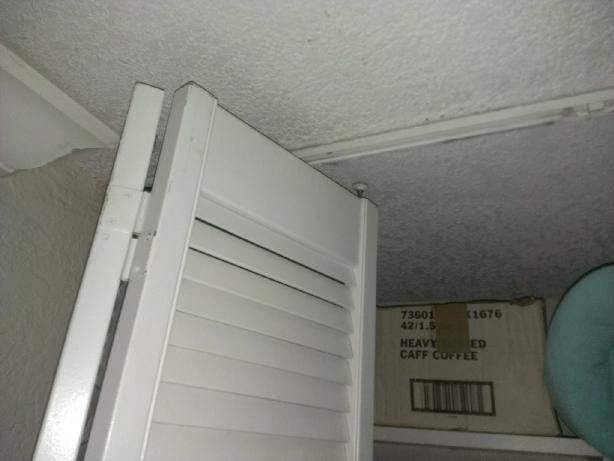 Couple of issues.
The track is not secured to the ceiling. I used a stud finder and couldn't find any wood joists along the footprint of the track anywhere. The joists run parallel to the track, there is no framing crossing it above that can be used to secure the track.
The track is attached to the ceiling sheetrock with four toggle bolts. The sheetrock can't hold the weight of the closet door.
The last owner put in crown mouldings. If you look at the picture above to the left the crown moulding actually interferes with the bifold door. When the door opens to about 75 degrees the top of the door hits the crown moulding, and I believe over time, repeat attempts to try and open the door wider against the crown moulding put even more stress on the door and helped pulled the track away from the ceiling. I see some cracks on the ceiling around the toggle bolt holes.
So now I have removed the door and the track. Here is a pic with everything removed.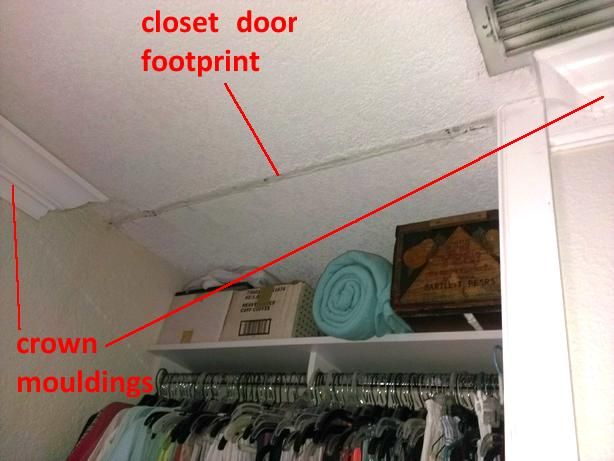 I can't get access to the attic, it is very tight there and no way I can put in some wood bracing on the other side of the ceiling.
I am wondering if I take a piece of 2X4, cut to ~48" length (the closet door opening is 48-1/4"), lay it flat against the ceiling sheetrock, not secured to the ceiling, but only secure the 2X4 to the sides of the closet door opening by say toe-nailing, would that give me enough support to hang a door track on the 2X4? I was thinking turning the 2X4 on the side instead of laying flat against the ceiling but if I did that I would lose another 2" of clearance up top and I have a shelf up top and the reduced clearance may be an issue.
I am also thinking about not using bifolds because the crown moulding is still in the way so any idea on other closet door options would be much appreciated.