Discussion Starter
·
#1
·
A couple of weeks ago I had a shed installed on my project property, a shed that for all intents and purposes was going to be nothing more than just that.... a shed. Since there isn't room for a garage except at great expense I figured a shed would do fine.
As it turns out the shed was so nice and roomy that I decided I simply couldn't leave it alone as just a simple shed.
I decided that I would run power to it, install an AC, a heater, lights, and a few outlets.
I haven't taken many pictures of the project so far because it was never intended to be more than just a shed lol.
So here's a couple of shots of the shed itself. It's 10x10x7
Originally I didn't want windows but they put them in anyway and as it turned out that would be to my benefit.....sort of...
I figured I could get away with putting a sub panel in the spot where a window was and I found the "perfect" panel, it was small and would fit in the window space with room to spare for wiring.
Unfortunately while looking for answers to Canadian Electrical Code I discovered that a panel in a detached building required a main breaker or master disconnect.
A sub panel as small as the one pictured does not exist with a main breaker.... so it was back to the drawing board, and now it as time to make serious modifications. as you can see from the previous pictures the panel sat nicely between the window except now I needed to use a larger 14.25" panel which meant widening the 2x4's on either side of the window.
On top of removing and moving th 2x4's on either side of the window I also had to cut the window trim.
the trim outside of the window is nailed to a "box" that sits inside the window. I had to remove the window trim and "box" inside of it, screw the trim together into one piece so the "box" would slide in from the front. I added to support beams to screw the sub panel to.
The black outline in this pic is the window trim, the red outline is the box inside the trim, I screwed them all together to make one single removable box.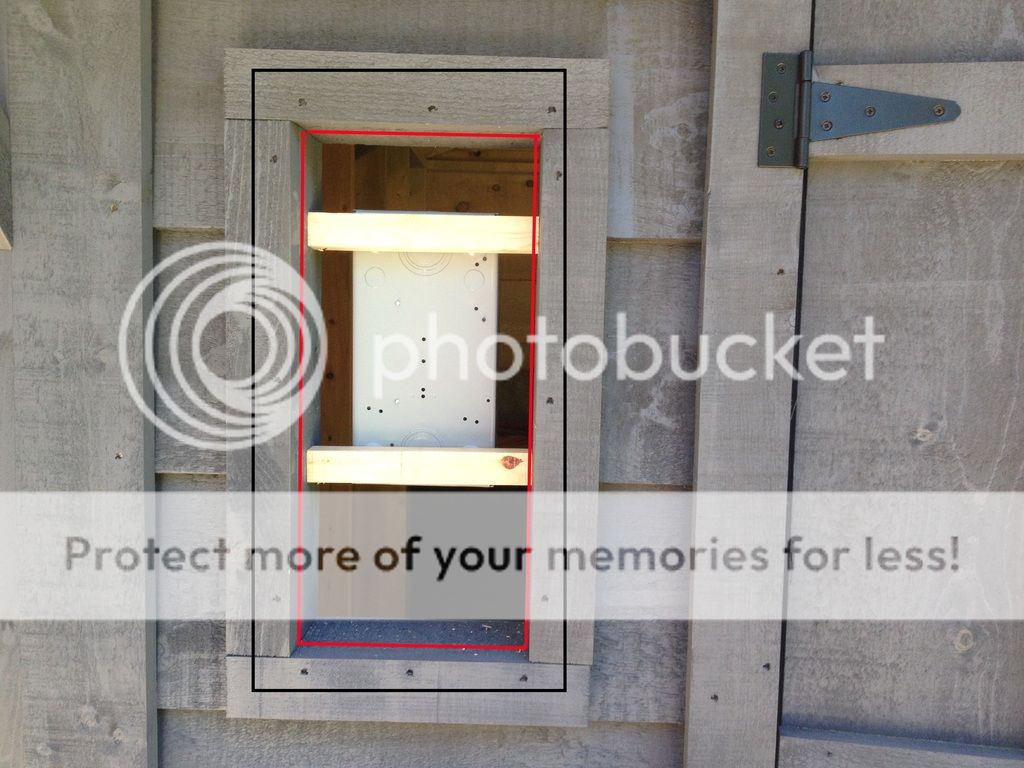 Now that that was done I had to make room for the new and larger sub panel. That required moving the 2x4's on either side of the panel out a fe inches on either side.
With that done I had room for the new panel, but then I also had to cut out a section of the window frame "box" I made earlier.
Now it'll fit this larger panel. Compare the photos and you can see where I moved the 2x4's
You can also see where I had to cut the window frame "box"
I'm going to leave it there for now, I'll resume posting later.