Discussion Starter
·
#1
·
I'm tearing out my front porch deck and starting fresh. The original deck, while it feels solid, is poorly constructed and doesn't follow much of a building code. I won't go into details on how bad it is, but some of it is hilariously bad (see how the center beam supports are hanging in mid air?).
Here is what I'm tearing out: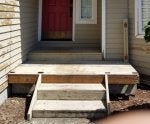 My plan is to redo it in a similar layout, but with proper supports under the center beam and the right side of the lower deck. And a proper ledger attachment to the house, with that being the only connection to the house (small gap everywhere else the deck meets the house).
I'm looking for advice on how to properly support (i.e. to code) the center beam and right side of the lower deck. Ideally I'd have a center beam run the entire length of the lower deck, but I'd like to reuse the beam I have if possible. And getting a footing right next to the house may not be easy/possible. Also, I need to have the upper deck rim joist pushed back farther than it is to account for a fascia board and decking overhand (so it blends with the house corner trim better).
A couple ideas:
Option A - This isn't to code, and like I said getting a footing that close to the house would be a challenge.
Option B - I think having another beam is more to code. It's basically like supporting a freestanding deck.
Thoughts and advice is appreciated!