Discussion Starter
·
#1
·
Let's start from the beginning. Last year, my Lennox unit (Model # HS20-261-2P, dated Dec 1990, charged with R-22) started making a badbearing noise and after about 2 weeks quit working (I was getting married and didn't have time to look at it). So we let it be and turned off the AC. Warm weather was over in about 2 weeks, and life was good again.
This spring, I had time to look at it and diagnosed that it was the fan motor making the noise. Replace that with a new one ($225). Now, everything work if I depress the contact switch on the unit itself (Both the compressor and the fan kick in). It does not however start when the thermostat says so.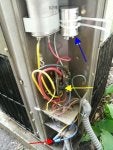 In the view of the side panel, The capacitor from the BLUE arrow (top) was added when I swapped the fan out (universal fan). When I push the contacts near the YELLOW arrow (middle), everything sounds fine and the fan spins, and the compressor hums and I can start feeling a change in temp of the lines going into the house. I'm getting 28 volts at the wires with the RED arrow (bottom) when the thermostat is set to cool, and 0v when the thermostat is off. No surprise there except that it's not working.
I traced the blue wires from the RED arrow on the side panel to the compressor. They each attached via wire nuts to a pair of wires running to the top of the compressor (the larger blue wires and the 2 smaller wires pointed to by the RED arrows again), running under a sealed (or at least siliconed) cap. I replaced the wire nuts (under the plastic cover on the side of the compressor), and nothing changed. It was a long shot, but I was slightly hopeful
The best guess I have is that the wires on the top lead to some sort of pressure switch. Does that mean I need a recharge. I doubt it was ever done before (I've owned the house 8.5 years, and the unit is from 1990). How do I know for sure?
If it does need a charge, how much is that typically, and is the age of the unit a concern. I can't really swing a replacement. Also, is there anything else it could be? Is there anything else I should check?
Thanks in advance
Dominique