I saw some blisters on the drywall underneath the window and it had a musty smell. A handyman came over and caulked the external wood siding but he couldn't go inside given the restrictions with COVID-19. He advised me to open the drywall and wait for rain to see if the leak have stopped.
I opened the drywall (see pictures), removed bat insulation, and now I see the board insulation with foil.
1- Can I cut the damaged insulation board, located between the studs, and replace it with a new one from the inside, or is something that needs to be done from the external wall outside? I think the smell is coming from this damaged piece.
2- Is there anything else I should do or check for while I wait for rain?
Any help is appreciated.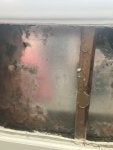 (left side)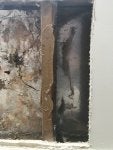 (right side)