Discussion Starter
•
#1
•
I have a five gang masonry box set into the concrete block wall.
The box is located inside an atrium, with a total of ten switches controlling all the exterior lights.
Here is a picture of the switches, and the corresponding labels for each switch. I have wired the switches such that the location of the lights each switch controls maps to the location of the switch in relation to the box. Otherwise with ten switches it can get confusing.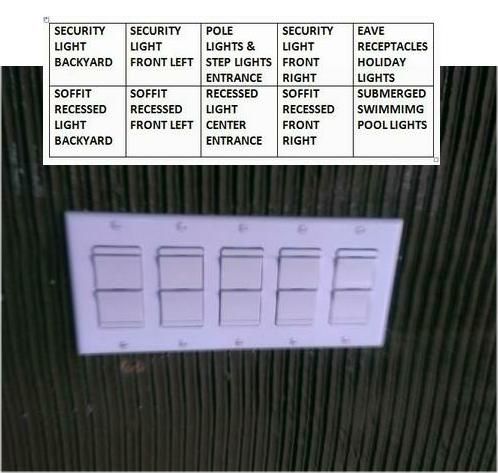 After I wired them I realized one set of lights should be controlled dusk till dawn instead of with an on/off switch. Well it would be nice to have an on/off manual override.
The top middle switch controls two pole lights and two step lights at the front entrance.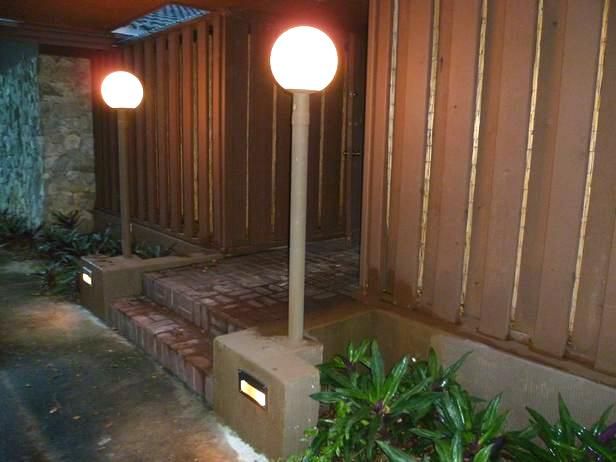 I think the wires to each pole and step are encased in the concrete stairs. There is no easy way to have a photocell on the outside for all four lights. So I am thinking of a way to mount a photocell on the inside.
But I have ten switches and each one serves a purpose. It is difficult to rearrange them due to their location on the box. I don't want to move a "center" light out of the "center gang".
Can you think of anyway that the two switches in the middle can be converted to control the pole/step lights via a photocell, as well as the center recessed lights? Is there a decora switch where half of it is a switch and the other half a "blank" that I can drill a KO hole to fit in a photocell? Or any other ideas?