Discussion Starter
•
#1
•
Hi All! Your advice is much appreciated on the
most practical, easiest, DIY-able option for wiring an outlet or hard-wiring my garage door opener
. (See attached pics with potential wiring options highlighted).
I'm happy to say that my DIY garage door opener installation has yielded a working garage door. BUT - It is currently powered by an extension cord. I'd like to introduce a more permanent connection (and do my best to be up to code).
I'd like to do the electrical work myself, realizing it's nothing to take lightly. A few thoughts on options based on the photos:
Fluorescent lighting and fixture are connected to a switch, so wiring through them is probably not ideal despite its close proximity.
The extension chord is currenly plugged into an outlet in the back of the garage. Wiring is accessible behind this wall - probably the most accessible of the outlets for wiring.
Breaker panel is close. This is a little intimidating, and maybe unnecessary?
Not visible - A small chunk of yellow cable pokes out of the wall above the breaker panel and passes into a hole in the ceiling. Thinking it could possibly be spliced for a wire to the opener? Probably the most accessible...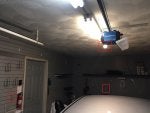 What would you say is the best option to get a wire?
How would you wire it (embed outlet, conduit to box, hardwire, etc.)?
Thank you!!
The original thread where I tackled low clearance issues is over at
this thread
.