Discussion Starter
•
#1
•
I'm looking to add a jump duct (aka transfer grille) in the second bedroom to help with airflow. I don't want to install it over the doorway frame due to sound and light leaks and there's no going over because there's no attic access. There is an adjacent closet so running it through there seems like the best option.
The duct will start above the closet door, turn 90 degrees then empty into the hallway where there are return vents on the other side. Ideally it'll connect directly to the return vents but that would require installing duct over stairs which makes this far more difficult.
See diagrams and pic below.
Blue = new duct
Red = new frame and drywall to conceal duct
Green = existing drywall
Top view
Pic of inside of closet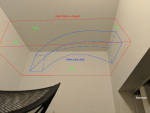 Questions:
1. Given how close the walls are, can the two register boots be connected together directly if the measurements work out?
2. If the boots are too far from each other, can metal uninsulated ducts be used since this is in the closet and not going through the attic? Something like
https://www.homedepot.com/p/Master-Flow-3-in-x-2-ft-Round-Metal-Duct-Pipe-BCP3X24/100129266
3. After the new duct is installed, it'll get framed out and new drywall will be added to cover it. Before doing so, does the existing drywall need to be removed down to studs or can it be left as is? See pic above marked with green x's
4. Other ideas or options?