Discussion Starter
·
#1
·
Some years ago I started to transition away from traditional outdoor motion lights and replaced all my security lights with integrated LED fixtures, these should last like 35+ years according to the product listing.
But I have actually replaced quite a few of them since and as I recall NONE of them lasted more than 2 years. My old cheap Copper Lighting clunky motion light that uses two PAR38 bulbs lasted over ten years and it was still working when I went with the new shiny LED fixtures.
I am just not sure these newer fixtures were designed to take the beating. I am in South Florida so yes hot sun high humidity frequent rain sometimes hurricanes.
While the bulbs may last 35+ years, the fixtures doesn't.
The motion sensor is often covered with a piece of fragile plastic in the front. This piece of plastic cracks after being in the sun for a while, letting water in.
Water gets inside the LED light housing. On some of them I can actually see water ponded at the bottom, we have driving rain often in the summers. This is from a fixture flush mounted on the wall and sealed around the perimeter of the base. I don't know if the water is getting in from the swivel arm mechanism, or it may have been condensation, but this light lasted six months before it turned into a disco flashing light.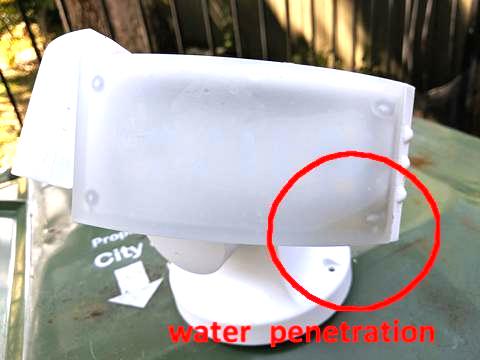 I tried $39 fixtures, and I tried $129 fixtures, doesn't matter.
I am going back to the cheap basic weatherproof lights with two PAR38 bulbs, and will just use LED bulbs.