Discussion Starter
·
#1
·
Hello, board. This is my first question here. ^^;
I'm trying to re-landscape my entire yard. Here's a bird's-eye view of my lot: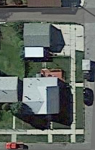 My house is on bottom, front door facing the bottom, and my garage is at the top against the alley.
As you can see, my house is built right along the left edge of the property so that it buts up against my neighbor's yard. In fact, there is no fence between our yards along the length of my house; my exterior wall is their "fence".
At the front and back of my house, though, there is an actual fence between our yards. The thing is, at the front of my house, the fence doesn't follow the line of the wall; at the corner of my house, it actually jogs out a foot or two toward my neighbor's yard and
then
runs up to the front of my yard.
Here's a simplified drawing I did:
My question is, do you think maybe my property line is actually that foot or two farther out toward my neighbor, and they just didn't build the fence there because it would have left such a narrow space between it and my house?
How can I find out?
And if the property line
is
that far out, do you think it would be OK for me to build a fence along it in a straight line all the way back? I wouldn't ask except my
back
fence is falling apart, and if I have to replace it, I might want to move it out and claim that much more yard, if I can, rather than leave it where it is. It would narrow my neighbor's walkway from their front to back yards, but not by too much, I think. (My picture makes it look like I'd be cutting the space in half, but I think I'd actually only be shaving a quarter or a little more off.)
Maybe it's silly, but I'm not very fond of the idea of my wall being the neighbor's fence. I'd just feel more secure if there were a line between us.
Thanks for your help! ^^;