Hello,
We are replacing our rotting porch posts. We were trying to change to more of a square style seen here. Wrapping 4x4 with 1X PVC
The old posts had a fascia board against that came down pretty far. I was gonna replace it to a shorter one to match the inside piece so we could put crown on top of the square posts. See top left of photo.
However the board over the garage is the same width as current fascia . If I change to a smaller one I think it might look odd. Square mock up on right, still some old posts on left. Any other options,opinions,thoughts?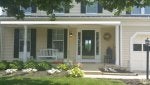 Thanks