I'm installing a new 240V breaker and I want to be sure I'm getting the right type. I've read that the circuit breaker panel should have some label somewhere that says what kind it is, but I'm having trouble finding any such label inside, or outside the panel. The only label I see is one on the main power switch which is shown below.
That says "Type QFP", but is that the panel type, or just this particular main breaker?
Here are some of the first breakers in there which I would assume are probably the original ones installed when the house was built in 1991. It's a little hard to see unless you zoom in, but they say "Type A"
And here's some other ones in there. There's a type QPH Siemens, a Square D Type HOM1, a Type MP-T:
And finally, some of the rest: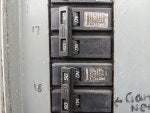 Seems like a real mix of breaker types. Can anyone help me figure out what type I should be putting in? I'd like to do it right from now on, even if in the past some people didn't adhere to the rules.