Discussion Starter
·
#1
·
Last night I noticed this problem on my ceiling:
It's on that part of the ceiling in every room in the front of the house. In the back of the house, it's only happening in my scrapbooking room and not in the bathroom or kitchen. There is no water on the ceiling any further in than what's in the picture.
I've never had this problem before.
Last year I went up in my attic and sealed it, added baffles where the insulation was blocking air from coming up through the soffits, put insulation between the top plates and the bottom of the baffles, etc. Then in the spring I had cellulose insulation blown in up there.
This is the first very cold temperatures we've had since last spring, so this is the first time I've noticed it. Last night the temps were in the teens and now it's about 22°F outside. The temp inside the house is 66°.
Does anyone have any thoughts as to what is causing this (condensation ?) on the ceiling?
Here are a couple pics of what the attic looked like before the insulation was added. The first pic is with the insulation still blocking the soffit.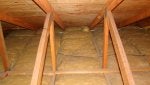 This is how it looked after I added the baffles and insulated between them and the top plate.