Discussion Starter
·
#1
·
[Had to split this up into 2 posts b/c of the limit on the number of images].
Hi all,
I've got a 1 car attached garage (about 25x12) that I've been using for various projects.
I've been wanting to upgrade the electrical since I moved in about 7 months ago, and I figured I'd do it in EMT. It's rather stupid because the wall I'm installing most of the conduit on is adjacent to the house -- however it's framed separately, and there is a ~2" gap between the back of the framing and the side of the house. It would make a perfect wiring chase for NM-B, making the job a hell of a lot cheaper and easier. But I wanted EMT because, well, for fun. It looks cool too. This is the first project I've ever piped, so please go easy :wink:, or not...
Background
The garage had 2 20A circuits running to it, one for lighting and 1 recept. group, and the other for just receptacles. Lighting consisted of a single 100W bare bulb in the garage, and another in the garage attic. The receptacles are all about 12-18" off the floor, and were always getting blocked by crap I'd store against the walls. A couple are damaged; probably the previous h/o had been doing a project of his own and knocked into them.
The circuits were basically fine for me for the time being -- my highest draw tools are a 15A contractor table saw and a 12A shop vac. So long as I ran their cords to opposite sides of the garage, I'd be fine. (Of course, I couldn't run my compressor at the same time..).
The lighting was my main problem. I'd get plenty of natural light during the day, but at night I'd need to set up portable lights, which is inconvenient at best and they're never in the right place at the right time.
I happened to rip a 4-bulb T8 fluorescent fixture out of my kitchen recently (installed recessed cans in its place), which is plenty bright. So my plan was to put that in the garage, plus a couple of other light fixtures, and also add some more receptacles.
Pics follow. If anyone has suggestions, comments, criticisms, etc., please let me know! A lot of what I've done here I learned from people on this very forum. So if I did a decent job, I dedicate it to all the experts on here. If I did a terrible job, then I guess it's your fault. :jester: (j/k.. I'll take all the blame.) Either way, I hope others can get some ideas for their own project.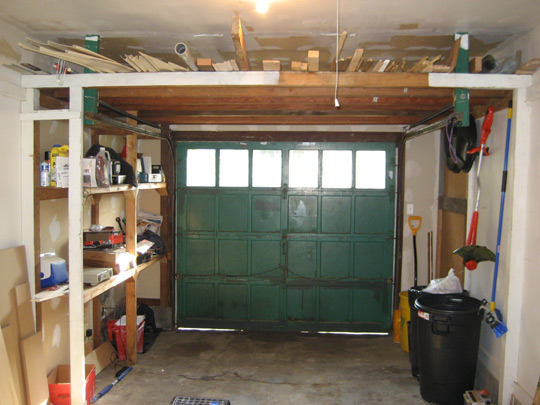 Front of the garage. Good lumber storage above, but it makes lighting difficult.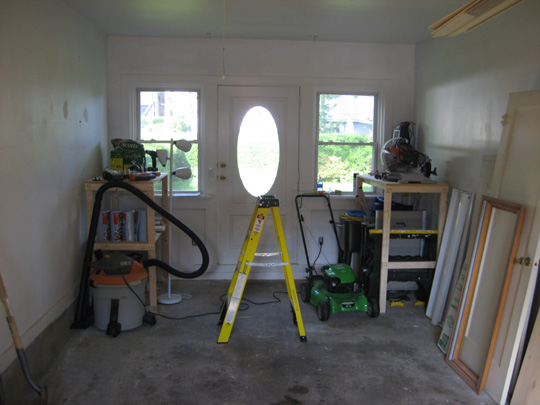 Back of the garage. Good natural lighting and ventilation. I have a couple of window fans I use for cooling and venting out fumes.
My fantastic task lighting. Ceiling is 10ft., BTW.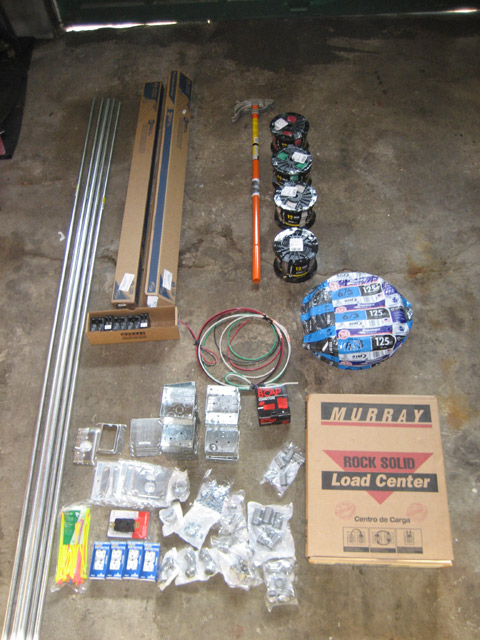 First Home Depot run. Didn't forget much. Figured I'd post this in case anyone wanted to know what brands I'm using.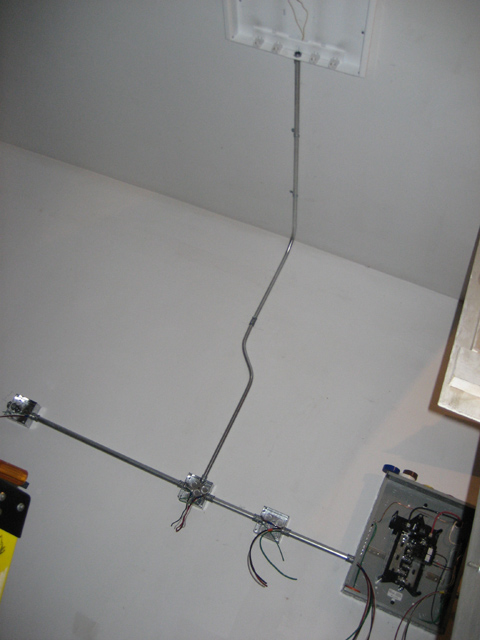 New main light fixture. Sorry for the weird angle, but it's the only way I could get the full conduit run in there.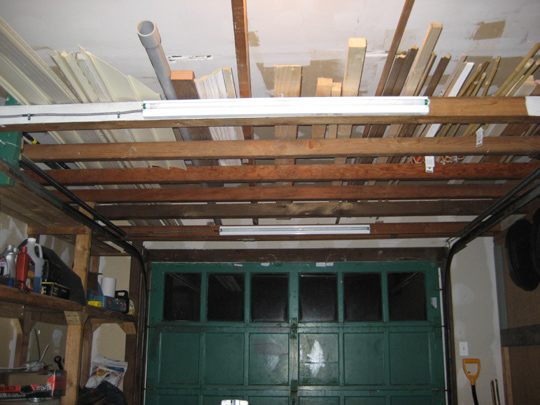 Lights in the front. I realized far too late that the one by the garage door gets hit by the door, so now I can't get it open. :thumbup: I'll have to move it back to the next 2x4. Fortunately I did those lights with AC and not EMT, so it should be an easy move.