Discussion Starter
·
#1
·
Gibson top freezer. Just a generic run-o-the-mill fridge from a big-box store about twenty years ago. Like new condition but it had developed this creepy moaning and bubbling and gurgling sound that dinner guests were actually starting to notice. You could hear it throughout the house.
Nothing to lose, with my eye on a new model, so I followed the sound to the evaporator coils behind the back panel of the freezer. Took the panel off and started hunting around with a mechanic's stethoscope. The image below is precisely where I found the noise was coming from.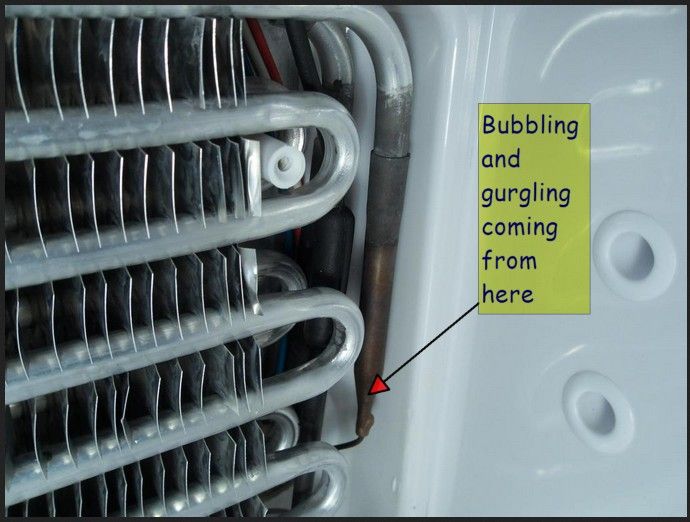 I'd heard that these can get clogged with... god knows what since it's a sealed system, so I commenced unclogging it on a hunch. I put tin foil behind it to protect the plastic and heated the bottom of the expansion tube with a mini propane torch. Got it nice and hot, not enough to weaken the braze or whatever glue they use to attach the copper to the alum evap tube, and then took a two foot long piece of 1/2 in copper tube to it like a pool cue pretty hard about a dozen times. Plugged it in immediately (hoping that I'd loosened some crud and the compressor would push it into the evap coils).
Holy crap. I fixed it. For the time being anyway, but I'm hopeful. It's been two weeks with nothing but the comfortingly mild hum of the compressor. And it runs half as often as it used to. Temps are perfect.
So it escapes the landfill once again. Who knows how long? I was motivated to clean it top to bottom, dab a little appliance paint on little scratches, and even car-waxed the exterior... so there.
If you have a haunted fridge, give it a try before you $#itcan it.