Discussion Starter
·
#1
·
I have an uneven gravel driveway on one side of my property. It is not graded properly. Here is a profile sketch of the situation (I have pictures but pictures can't explain it).

The road is to the far right, where I indicated EOP (Edge Of Pavement).
Then the gravel driveway. The section between the house and the gravel driveway is lower. so when it rains, it becomes a shallow pond.
I also have a double wood gate about 20 feet back from the EOP.
So a few months ago I hired a bobcat service to come and remove some of the gravel and regrade that area to be sloped properly from house to EOP. A lot of gravel was scooped up and then the bobcat operator says OOPS, YOU HAVE AN ASPHALT DRIVEWAY UNDER ALL THIS.
Since he has already ripped some of the asphalt, I had the entire asphalt driveway ripped up and removed. I then spoke to some older neighbors who told me the city came around and put in a sewer line in 2005 and had everyone abandoned septic and connect to it, and at the same time raise the road grade. This makes all the driveway lower, so some replaced their driveway, some just dump gravel to build up the driveway, I guess the previous owner ordered too much gravel.
Once the gravel was removed, the wood gate posts on the edge of the driveway are 6-8 inches above "new grade".
Now I am installing a new concrete paver driveway. The city requires a lime rock base of 6" thick, then the contractor will do another layer of paver sand base 2-3" thick, then the paver bricks that are about 3" thick. To do all that they need to excavate another 4-6" deeper, before they build it back up with the lime rock base.
Which leads to my problem with the gate posts.
Originally these are 8' long 6X6 posts buried 24" below anchored with concrete. After two excavations, these posts are now exposed 10" more...they are buried only 13-14" deep instead of the 24". Not only that, I used an SDS rotary hammer with a chisel bit to clean up the exposed concrete back to bare wood for the paver install.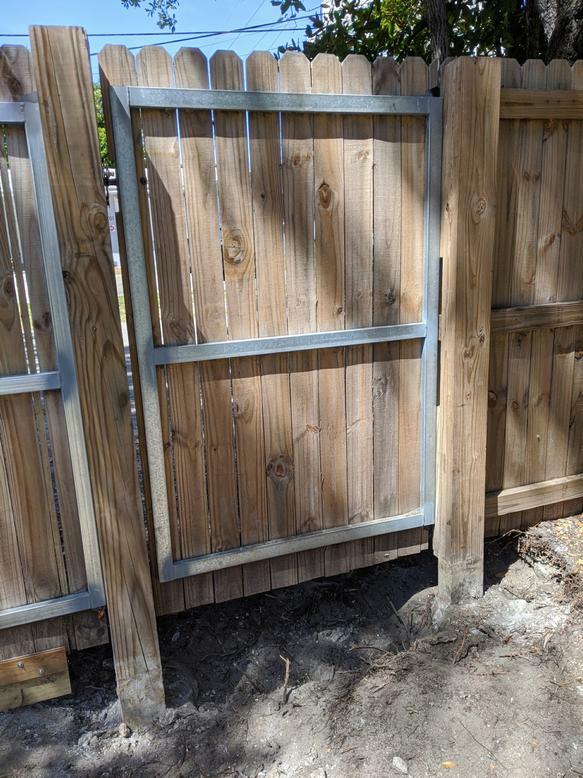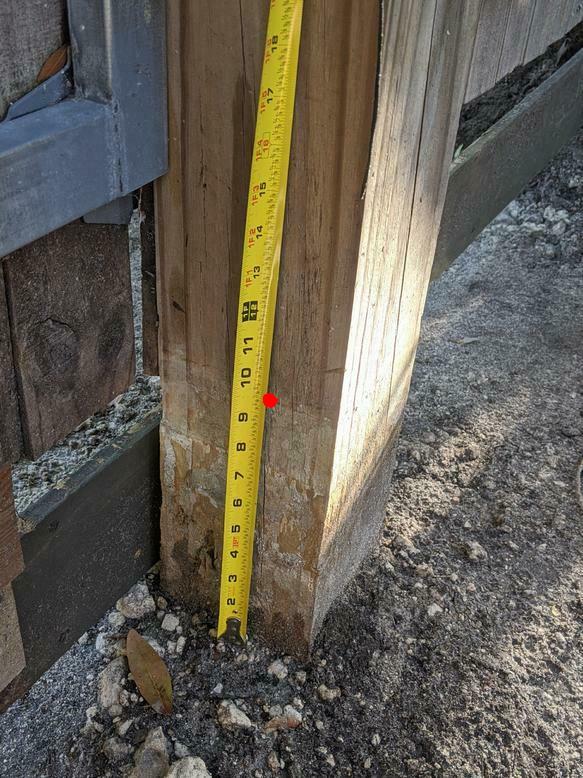 So now the posts are buried 10" less than they used to be, I felt one post is wobbling a little when I push it hard on one side. Not only that, I can see the two gates are now sagging towards each other a little, so probably one or both posts have leaned a little. I can't tell which one because these 6X6 PT posts have twisted over time so they were not perfectly plumb.
So I probably need to remove those posts and re-install them. Perhaps use 10' long post cut them to 9' long, dig down deeper and set them 3' deep.
But the paver contractor needs to complete the paver install, so I am looking at the finishing the paver install, then go back to remove pavers (may be a 3'X3' area?) around the posts, chisel out more concrete and pull up the 6X6 posts, install new posts and concrete, then reinstall the pavers again?
Or is adding a few inches or lime rock base, then a few inches of sand, then a few inches of pavers will anchor the posts better and stop the wobbling? I doubt it though.