Hi All,
I was staring into my main panel (as one is wont to do), and saw this: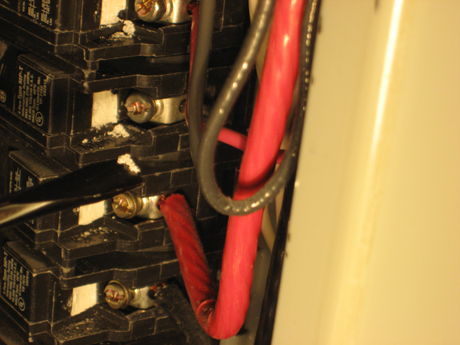 Enlargement:
Two dual-pole breaker modules have this problem (one is rated 50A, the other 20A -- CAC compressor and air handler, respectively). Basically the white stuff you see is flaking off as powder. I'm assuming it's sealant of some kind. You can see some if it on the tip of my screwdriver; I knocked some loose, but there was already a bit that had come off.
Only one other breaker in my panel is made this way, and the white sealant (?) above the terminal is shiny and new looking, even though the unit is appx. the same age as the ones above. (The house was completely rewired somewhere between 1997-2002, so all breakers are probably < 10 yrs. old).
Is this deterioration caused by overheating? Is it just natural aging? And more importantly, should I replace the breakers?
Thanks in advance,
Scott