Backer strip or not, the most important part of cutting crown is nesting the crown at the same exact angle each time. Without that there will be frustrations that will be difficult to overcome.
There are plenty of ways to achieve that. This is how I have been doing it for years with great results.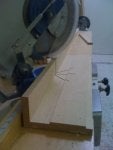 The real hidden benefit is in the zero clearance fence. That makes lining up your cut easy to very accurate tolerances.
Good luck to you with your project.