Hey guys, this is my first post other then my intro. I just finished my kitchen for the most part. We need new appliances but its all in time. I had pretty much no experience going into this. I have been in the automotive industry for 13yrs now so I feel like I am pretty handy but havent touched a table saw since highschool. When we started looking for a new house I knew I would have some projects so I started buying tools too. I thought that was a pretty good excuse any way
. Ended up finding a house and the previous owners didnt paint anything! It was all builder white and boring. But a great place to start. I will add captions above each picture.
This is what I started with.....
I pulled all of the cabinets down and reused every one of them. I did have to buy 2 new corner cabinets. The upper was $20 and the lower was $40. I had to extend the upper corner cabinet to get the look I was going after. I cheated and extended the top but I did take two doors and made one to account for the new length. That turned out 10x better then I thought it would.
She wanted a fancy oven range thing and we found one in a magazine that she liked so I had something to go off of. Built that and mounted the old range hood under it so I still have a light and fan. Then added some crown. The crown moulding was a lot easier then I thought it would be. I had heard that it was hard to cut/hang. It went great no problem. The filler pieces on each side of the oven helped center the oven under the new range thing. I added extra support in them to help hold up the extra weight of the range.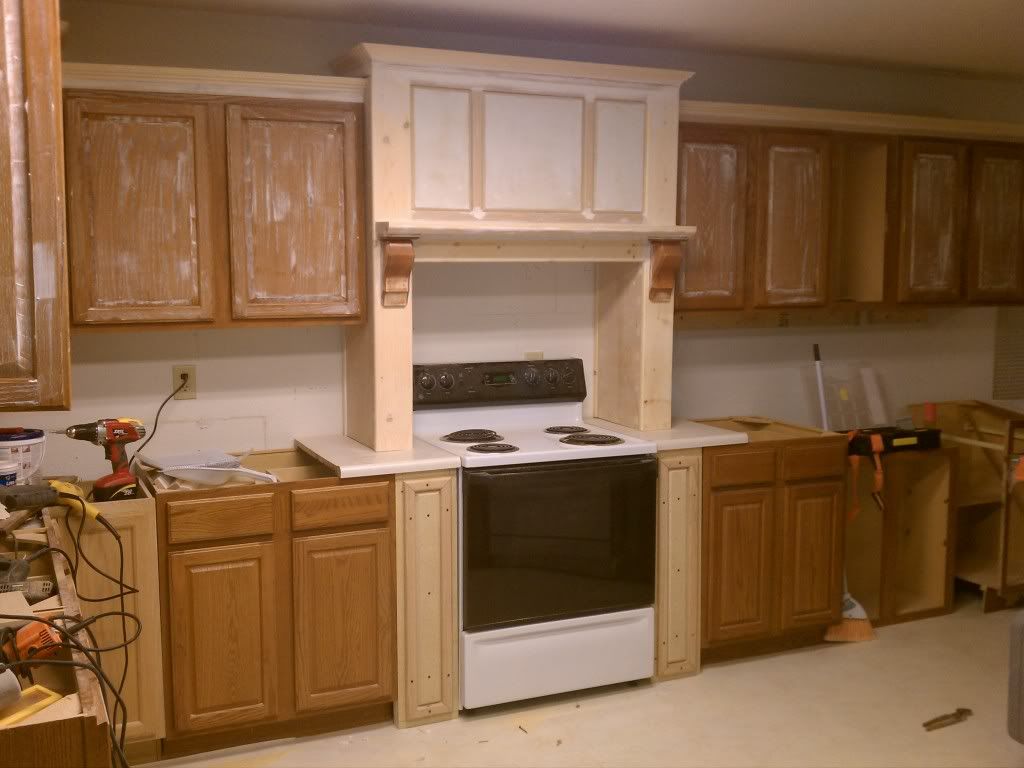 I sanded everything down and primed it before I painted it.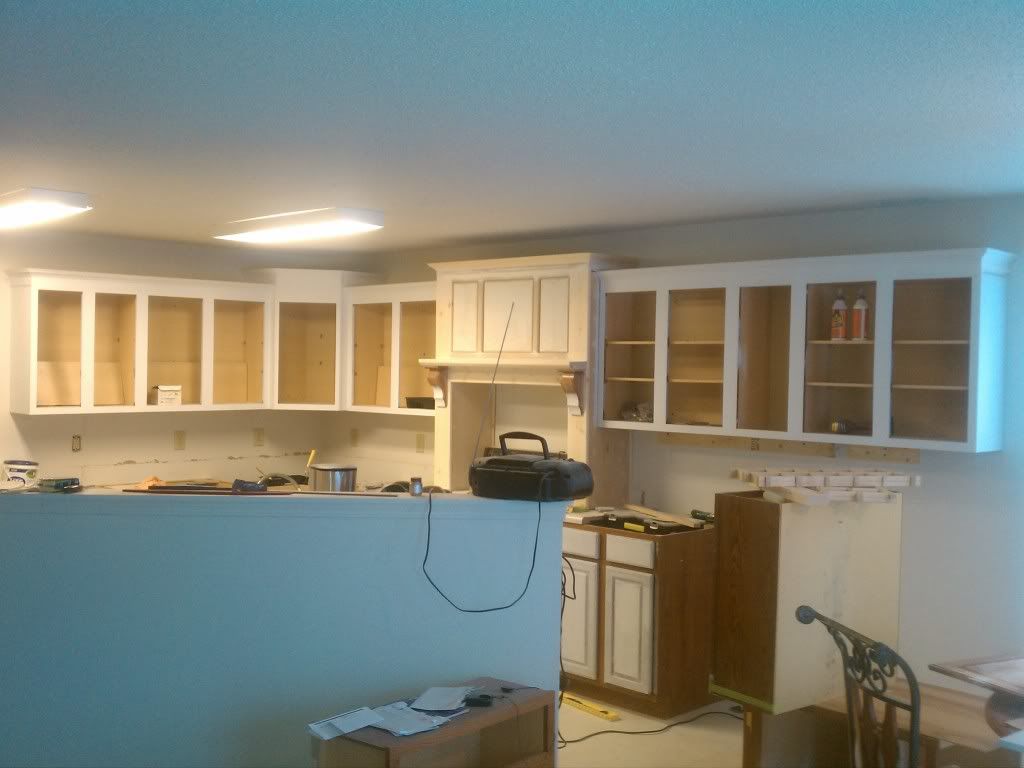 I made my own counter tops and covered them with laminate. Like everyone else we wanted stone but couldnt afford it. I have 28' of counter tops and I bought the wood and the laminate and finished it for $120.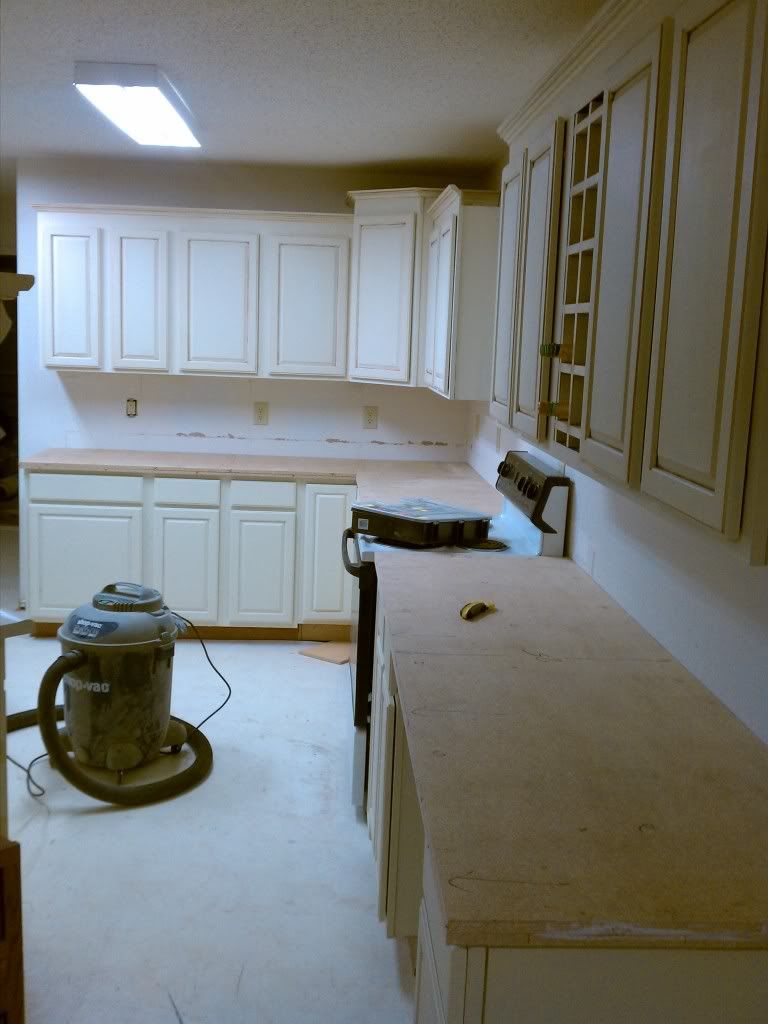 Added tile floor... Here is where I messed up. 1 first time ever doing tile 2 tried to save money so I bought 12x12 cream tiles and cut every one into 1/4 because a 12x12 was 58cents and a pre cut 6x6 was 63cents. I kicked myself in the butt everytime I had to cut more of those stupid tiles.
Thats pretty much it. I painted our stove black because the white was really bad looking. The only issue is we picked out the laminate for the countertops when we were going to use a glass backsplash. The we changed our backsplash and now i feel like our countertops dont go with the kitchen. For another $120.00 I can re-laminate the countertops to a darker color. Like a black with copper flake to match the knobs and backsplash. I have pocket lights to replace those stupid fluorescent lights. But we can finally relax a bit now or at least I can.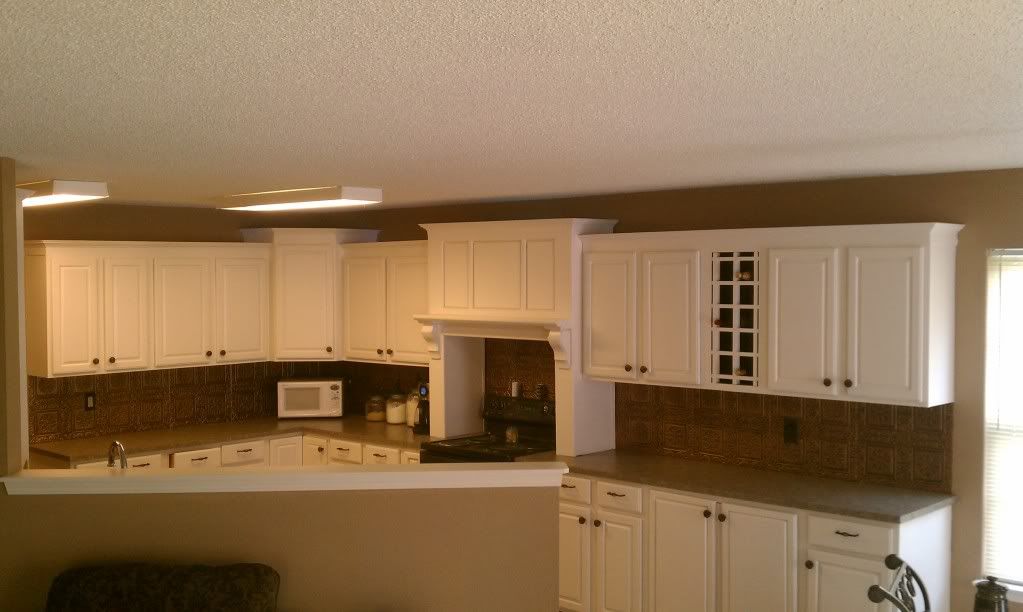 I built the top to the fridge cause it didnt come with one and I built that cabinet to the left of it. She saw something like it in a magazine and said thats what I want. So I said yes dear... We bought a plate set just for it. I had to slide everything down 6inches or so because of the huge fridge. But I used a smaller end cabinet on the other end and it all worked out.
So here is the total..... $1,260.00 Most of that was the tile well like $500 or so. If there are any contractors that see this I would like to know how much would this have cost had I paid someone to do it? I feel like i have a pretty nice kitchen but I might be one of those guys showing off a pic of my ugly baby just proud cause its mine...
Thanks for looking!
Justin