Discussion Starter
·
#1
·
I wanted to get some ideas on standard design for using chair rail and wall boxes. I'm most interested in when is it ok to use them.
We're redoing our master bedroom. New furniture, color and flooring (from carpet to hardwood).
There is one feature that is a little out of the ordinary. The one window in the room is 35"x70" that is oriented horizontally with the sill being about 4' off the floor, or right at the perfect level to rest your folded arms when looking out.
Every picture I've seen of chair rail with a window is to run the rail in to the window frame, usually just above the sill. For our situation, that would be way too high for a chair rail, as it would be over 4' above the floor. It's a standard ceiling height so the proportion is way off. So, I'm thinking of adding the chair rail about 24" off the floor., which is a 4-to-1 ratio of wall height to chair rail height.
What I want to know is whether a chair rail would look right at all with the window we have in the room. And if so, is the 24" height about right?
As for the wall boxes (that go under the chair rail), I wanted to know if there is a time when wall boxes is too much for a particular room design. Or does the shorter chair rail height make the wall boxes a design no-no.
When I see nice chair rail and wall boxes, I think elegance. Our motif is going to be more laid back.
This is the bed:
These are the night stands:
With the chair rail, we're going with a light shade of gray on the upper part of the wall and a slightly darker shade of gray on the bottom. All the trim is white and the ceiling is white. The floor is going to be handscraped, very similar to this: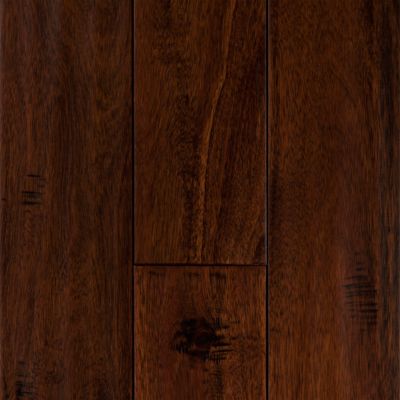 My wife wants color in the room. Our daughter and I have convinced her that she can add the color with furniture, bedding and wall decorations rather than with wall color. So the room isn't going to be a showroom for bedroom furniture (where everything is the same color and design).
I'm thinking that wall boxes would be too much. Like I said, I view them as an elegant feature. Am I being too discriminating or would wall boxes be too much? The footboard of the bed has a wall box design, so would that make it work?
Thank you for your time and consideration.