Discussion Starter
·
#1
·
Here's the problem:
I just moved into my house, I am doing some basic reno and redecorating. I am currently working on the living room.
The house is a little older and as such none of the electrical outlets have ground wires leading to them. I'm not much of an electrician but the idea of having no ground wires alarms me so I bought CGFI outlets for the whole house. I've already installed them in the bedroom that I renovated with no problems at all but now that I am into the living I am having a serious problem.
In the living room there are a total of 5 outlets and 3 switches on the same circuit, all of which I replaced today. One of the switches controls one of the outlets, the other two switches each control there own light (one light is interior the other is exterior).
Now for the problem; 3 outlets work without a problem at all times. 1 outlet does not work at all (I'm not sure if it worked before I installed the CGFI outlet) and the outlet that is controled by the switch works as long as neither of the lights are turned on.
As soon as I turn the lights on, the CGFI trips the internal breaker. Then I lose power to both lights and the outlet controled by the switch but all the other outlets continue to work.
The same is true with the lights. If the switch controling the power outlet is off then both the interior light and exterior light function fine but as soon as I turn the outlet switch on, it grounds out and I lose power to the one outlet and both lights.
I did not have this problem before I switched to CGFI outlets and I switched the wires over one at a time from the old outlets to the new ones so it would be identical. The only thing I changed in the wiring for the two light switches, I reversed the two black wires because initially the lights wouldn't work at all.
Pictures:
Here is a picture of the three switches:
On the far left is the switch controling the outlet
This is inside the switch box
And here is the outlet the keeps grounding: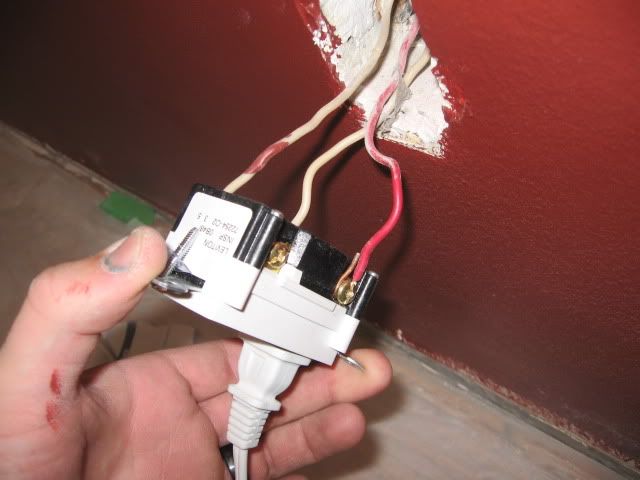 Thanks for the help